SmartSound Support
SmartSound tutorials Instructors
License Information
SmartSound University
SmartSound experts show you the powerful tools behind SmartSound's revolutionary Royalty Free Music Editing Software.
Create Professionally Mastered Soundtracks with Sonicfire Pro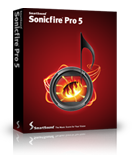 Expert Sonicfire sound engineer Larry Jordan walks you through the unique & powerful Sonicfire software. Harness Timing Control, Mood Mapping®, Custom Length tools & more to create soundtracks with precise pitches, hits & transitions in minutes.

Use SmartSound's patented Express Track Technology to find the perfect music instantly edited to fit custom lengths. Control arrangement variations & mixes to find the precise solution for your project.
Adobe Premiere
After Effects
Final Cut Pro
This video series, hosted by author and sound design expert David Sonnenschein, is designed to teach video editors how to approach the task of creating a music score for their films and videos.