SmartSound / Adobe Partnership
Multiple Products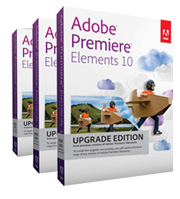 SmartSound has partnered with Adobe on numerous products and technologies over more than a decade. Adobe understands the value of SmartSound's patented customizable music technology and vast royalty free music library. Learn about the Adobe products that support SmartSound and shop for more music for your Adobe products here.
Latest Releases
Adobe Premiere Elements 10
This new version of Premiere Elements features a new Sonicfire Pro integration that works for both Windows and Mac users. Sonicfire Pro software and the Core Foundations music album are included free.
Adobe Premiere Pro & After Effects
No SmartSound software is included with these products, so SmartSound has created plug-ins for these applications. You may see some promotion of these products by Adobe, but they are sold separately from CS5, CS5.5, and CS6.
Learn more about these Plug-ins:
Premiere Pro CS5, CS5.5, & CS6
After Effects CS5, CS5.5, & CS6
What users are saying ...
"I love, and regularly use, the moods, layers, etc... it's one of the coolest things about the SmartSound libraries, not to mention the quality of music. You guys are selective in the composers/music you offer, and it really shows in the great library you have. Keep doin'! :)"
D Van Choice, U.S.A.
"SmartSound music has made my job much easier, because it offers royalty free music at a very reasonable price. Thank You."
P Rafferty, U.S.A.