SmartSound Software
Sonicfire Pro
Sonicfire Pro Plugins
Sonicfire Pro Hit Packs
Cloud-Based
Express Track Search in SONICFIRE PRO
Search and Automatically Adjust Music To Your Creative Needs
Express Track is the only royalty free music search engine to combine sophisticated technology that gives you meaningful, comparative search choices with patented, industry leading technology that customizes the length, mix, moods and arrangements to meet the creative needs of each scene.
Find It!
Powerful searching features are imperative for a royalty free music library with thousands of tracks and a constant addition of new tracks every month. Sonicfire Pro 5's Express Track was designed to help you pinpoint the perfect music quickly.
Keyword Search
Find all the tracks that match your search term
Narrow by Categories
Narrow results by specific categories such as Style, Keyword, Instrument, Intensity and more.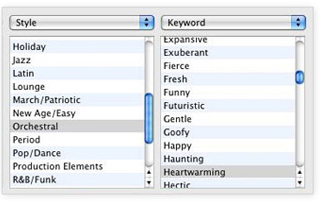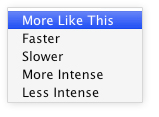 Sensory Searching
Find music that is close to what you want and then you can select "More Like This" to find all music similar to that track. Further adjustments like "Faster/Slower", "More Intense/Less Intense", etc. can be made to lead your search to the right track.
Tap Tempo
Tap a tempo on your mouse to find all tracks that match that tempo.
Customize It!
SmartSound pioneered customizable library music and is the only company to provide a music search engine that is also loaded with customization features. Once you find a track with the powerful searching options, you can adjust the final length, arrangement and instrument mix.
Length
We don't limit you to the basic 15, 30 and 60 second cuts you get from other libraries. Simply type in the exact length you'd like and Express Track instantly provides a perfectly edited version with a musical beginning, middle and ending.
Variation
Once you've selected a length, Express Track computes all possible musical arrangements available. Each variation is simply a different way to edit the track to fit your parameters. This gives you several creative options for every track.
Mood
The list of preset Moods gives you instant access to different instrument mixes that can create a diverse set of sounds from a single track. You can select from preset moods like Drum & Bass, Dialog, Atmosphere, Breakdown, etc. to quickly get a custom sound.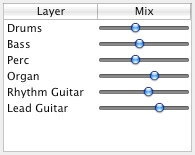 Mood Mix
If you want to remove an instrument or fine-tune one of the preset Moods, the Mix panel lets you precisely adjust each instrument layer.
Use It!

Putting SmartSound Music to work in your productions is a simple process. Once you've found the perfect track and made any customizations, simply export the track as a .WAV or .AIF file.
Export the music as a single file or save each instrument layer as a separate file. This gives you the ability to fine tune the music further in your editing software and also enables exciting creative options like a surround sound music mix.
Send To – The "Send To" feature can send the music file right into your current project in several different applications.
Output high-quality audio in formats supported by all popular editing applications. Drag'n Drop – Mac users get the added benefit of being able to drag a music track from Express Track and drop it into any folder. This will create a version of that track based on the currently selected customization options.
More features…
Tempo and Pitch Change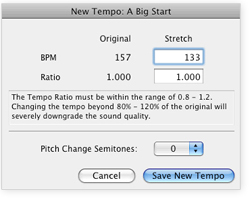 Sonicfire Pro 5 now lets you adjust the tempo and pitch of every SmartSound Music track. Simply select a new tempo and adjust the pitch to make a whole new track. The original tempo and the new tempo will now be available for this track and you'll still have full customization control over both versions.
User Notes
Want to keep track of your tracks? The User Notes feature allows you to type any kind of notes…like where a certain track might be a good fit or maybe where you've already used music. The User Notes is searchable in the keyword searching of Express Track.