Volume Licensing Program
SmartSound makes it easy for organizations of any size to purchase our software and royalty free music. Below is a description of the two components of the SmartSound solution and to the right is an easy-to-use calculator that allows you to customize your purchase.
Sonicfire Pro Volume Licenses

SmartSound software and music are licensed on a seat by seat basis. That means a music purchase is typically licensed for use by only one user. Our volume licenses save you money by allowing multiple users to share a single music purchase within your organization. (Volume licenses are licensed on a per address location basis, please call for multiple location requirements.)
Royalty Free Music Albums
Music is delivered in the form of packs. The download codes are based upon the number of albums you order and they come in increments of 5, 10 and 25 packs. You redeem them the same as coupons and you can download albums as you need them throughout the year. Your codes will always be available in your SmartSound account.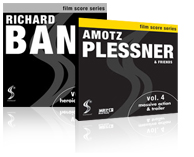 Album Packs of 5, 10 and 25
Any Album of your choice from our library
One (1) year to redeem
Downloadable for instant access
At least 10 tracks per album
Or, Purchase Our Entire Library
Purchase the entire SmartSound library at one time for $24.95 per album. This purchase includes a hard drive that includes all of our royalty free music library.
Why SmartSound?
Compare SmartSound to other models
(2 seat example, using a 3-year license agreement)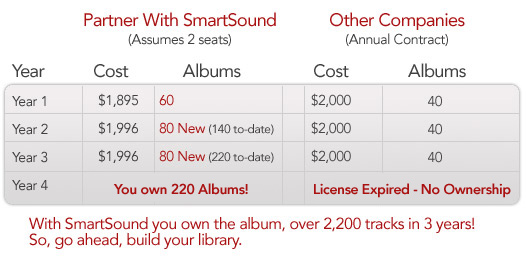 Pricing Calculator
What's your budget?
Connect With Kevin
As a former Hollywood film and TV composer, I know that a great soundtrack will set your productions above your competition.
Call me personally to craft a solution that is right for your organization.
Contact me at 800-454-1900.
Volume Licensing
Save Money with Multiple User Access to Your SmartSound Music!
Find Out More
Indie Film Pricing
Easily Get the Perfect, Royalty-Free Solution for Your Indie Film Soundtrack.
Find Out More