Smartsound Software
Sonicfire Pro
Sonicfire Pro Plugins
Sonicfire Pro Hit Packs
Cloud-Based
Sonicfire Pro Plugin for VEGAS Pro 12-19 and VEGAS Movie Studio
VEGAS Technology Intersects Sonicfire Pro's Industry Leading Features For A Completely Integrated Soundtrack Creation Workflow
Utilizing VEGAS extension technology for third parties, Smartsound's plug-in for VEGAS Pro and VEGAS Movie Studio manifests as a simple three-step process. Simply identify the portion to be scored on your VEGAS timeline, invoke the "Add - Edit Smartsound Music" menu command and you'll connect diretly to the Sonicfire Pro search interface with the length of your selection already set. Use Sonicfire Pro to choose from Smartsound's large library of over 4,000 customizable tracks. Make any additional adjustments to the Mood, Variation, or timing of beats (Timing Control), then instantly send your unique, customized soundtrack right into the VEGAS Pro or VEGAS Movie Studio timeline! Need to make a change? Use the same method to roundtrip the audio back to Sonicfire Pro to make your edits, then send it seamlessly back to overwrite the original
*Sonicfire Pro v5.8.5 or higher, and VEGAS Pro 12-19 or VEGAS Movie Studio required.
Custom Soundtracks In Minutes
1. Click and drag to select a region, or select an existing event on the VEGAS Pro or VEGAS Movie Studio timeline to determine the length and placement of the audio track.
2: Run the plugin script by choosing Tools > Extensions > Add - Edit Smartsound Music to send the length to Sonicfire Pro.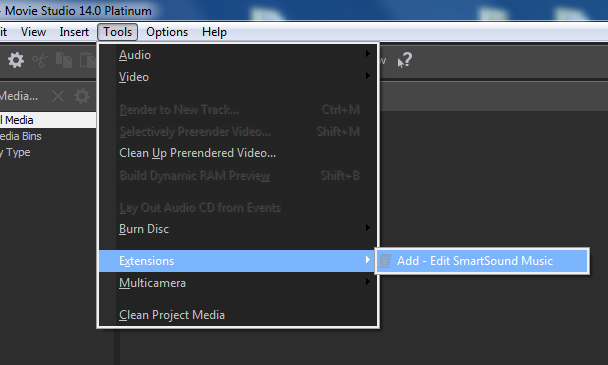 3: Select or Purchase the music you need inside Sonicfire Pro. The Duration is automatically set so you can directly experience our unique music customization features. Any markers contained within the selection will display on the Sonicfire Pro timeline. We always offer multiple Variations matching the desired length, and our multilayer tracks allow you to adjust the instrument Mix to evoke the perfect Mood.
4: Click the "Send" button (or use File > Send To Plugin Host > VEGAS for audio on the Sonicfire timeline) to import your customized soundtrack onto your VEGAS timeline! If you need make a change, select the audio file and run the script again to roundtrip the audio back to Sonicfire Pro.
(The Sonicfire Pro 6 plug-in is a free upgrade for existing owners of the Sonicfire Pro 5 plug-in)
UPGRADING Sonicfire Pro: Must have a qualifying serial number and purchase from within your account to receive upgrade price.