Smartsound Software
Sonicfire Pro
Sonicfire Pro Plugins
Sonicfire Pro Hit Packs
Cloud-Based
Sonicfire Pro Plugin for Final Cut Pro X
Use Apple's Generator Function To Access Smartsound's Powerful Technology and Create Perfect Music Soundtracks In Your Final Cut Pro X Timeline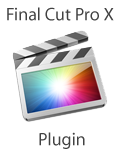 Smartsound's new plug-in for Final Cut X represents a breakthrough in NLE music workflows. Taking advantage of Apple's Generator technology, our new plugin starts where it should – inside an FCPX* project. From there, our smooth workflow has you creating placeholders for the exact timing that you need; click the Generate Music button and you go instantly to Sonicfire Pro. There you will find powerful features to customize music you choose from Smartsound's curated library of thousands of tracks, and send your results directly back to FCPX with your new timings intact.
*Sonicfire Pro 5.8.7, 6.0.3 or higher and Final Cut Pro v10.1 - v10.4.8 are required.
Key Sonicfire Pro Features
Simple to Use … Powerful Results
1. Drag a Smartsound Music Placeholder from the Generators section onto the FCPX timeline where you want to add music, and extend it to the desired length.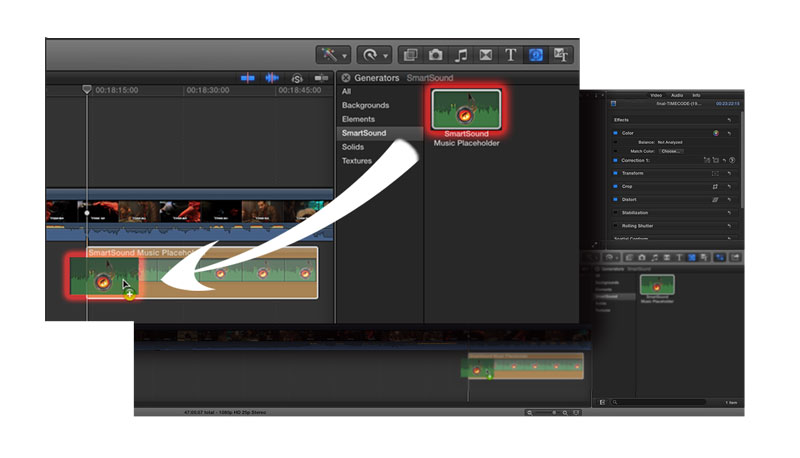 2. In the Inspector
, click the "
Generate Music
" button to launch Sonicfire Pro as a plugin. Optionally, you can select a Library, name the new Event that will be created, name the audio clip, and add Keywords.
Tip: Libraries
A "Smartsound Music" Library will be created in FCPX as a default location for the Smartsound audio files. You can choose a different library if you wish by clicking "Select Library".
Tip: Adding Keywords
Adding keywords to your Smartsound Events is a very powerful way to keep your projects organized and make searching through your Events faster and easier.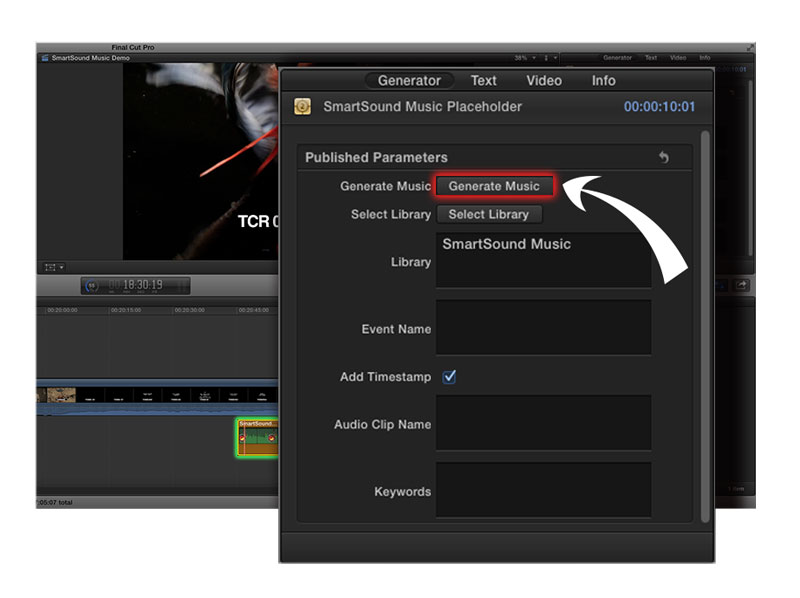 3. Select or Purchase the music you need inside Sonicfire Pro. The Length is automatically set so you can directly experience our unique music customization features. We always offer multiple Variations matching the desired length, and our multilayer tracks allow you to adjust the Mood to find the perfect instrument mix. When ready, click the "Send" button to import your customized soundtrack into FCPX as a new Event.

4. In Final Cut Pro X, drag the newly imported Smartsound Music Clip
onto the existing Smartsound Music Placeholder and choose either "
Replace
" or "
Replace and Add To Audition
".
Tip: Add To Audition
"Add To Audition" is a powerful option that lets you generate & add multiple Smartsound Music clips to the same Placeholder. You can then easily browse through all your musical options within the Audition by clicking the spotlight icon in the top left of the track.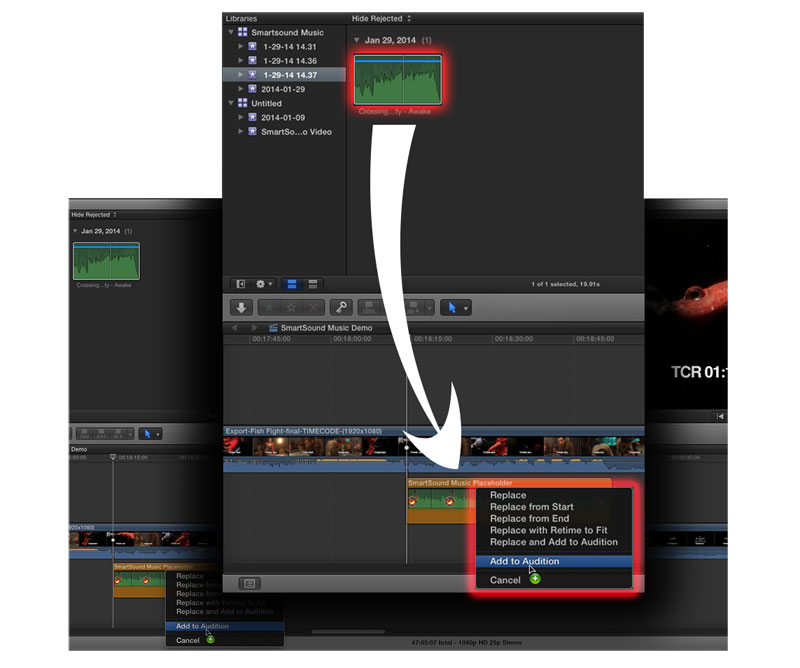 Advanced XML Import for Full Sonicfire Pro Timeline Control
Smartsound's new FCPX plug-in also includes the ability to import Final Cut Pro X XML project files so you can take advantage of Sonicfire Pro's powerful timeline features. The Smartsound Placeholders and any markers from your FCPX project can be imported onto the Sonicfire Pro timeline to allow complete control over your soundtrack. (Click to view import process)
1. Export your project out of Final Cut Pro X by clicking the File menu and choosing Export Project XML.
2. In Sonicfire Pro, click on the timeline to bring it into focus, then click the File menu and choose Import From...Final Cut Pro X and select the XML file. The Smartsound Placeholders and any marker data will be imported onto the Sonicfire Pro timeline. (Note that you can rename any Smartsound Music Placeholders and markers inside FCPX if you wish).
3. Select one of your Placeholders on the Sonicfire Pro timeline, then click the Choose Music button in the Properties window. This will open the Express Track window with the Length set to the length of the Placeholder. You can now choose your music track and click Insert to insert the track onto the Sonicfire Pro timeline and replace the Placeholder. Repeat this process for all placeholders and proceed to edit your music on the Sonicfire Pro timeline.
4. Click the File menu and choose Send To Plugin Host, then select Final Cut Pro X. It will create a new Event with a timestamped title containing your audio file. Since this audio file will span the length of the project, you will place it at the very beginning of the FCPX timeline and the music will line up accordingly.
The new FCPX plugin for Sonicfire Pro requires Sonicfire Pro version 5.8.7, 6.0.3 or higher and Final Cut Pro v10.1 - v10.4.8 and will not work with any previous version of Sonicfire Pro and no earlier nor later version of Final Cut Pro X.. Smartsound is thrilled to offer this breakthrough-approach to working with FCPX. We worked hard to develop new technology utilizing Apple's Generator technology creating the best music workflow for any NLE available. As such the new FCPX plugin does not have an upgrade path from previous versions of Smartsound's Final Cut plugin.
Apple's official third-party software and devices page.