Our products have changed!
We have updated our music licenses to provide you more flexibility and value. Please choose your product below.
Different
Heavy guitars and blistering drums introduce the mildly-aggressive themes of this tune, showing how much people can evolve and change over time.
Choose your license:

Standard
Extended
Widest
Customizable with Sonicfire Pro and Quicktracks
Personal and professional use
Promote a product or service
Use on my own website
Videos created for a third party
Use on my clients website
Monetized videos on YouTube, Vimeo, Facebook, Etc.
Display at Film Festivals
Display in theaters

(one theater)

(unlimited theaters in one country)

(unlimited)
Assign Distribution Rights
DVDs & Downloads

(up to 2000)

(up to 10000)

(unlimited)
In mobile apps
Local TV/radio broadcasting (includes advertising)
National TV/radio broadcasting (includes advertising)
Royalty Free Music License Info
---
Want to save money?
Upgrade to a Music Pack
Or Buy The Whole Album
---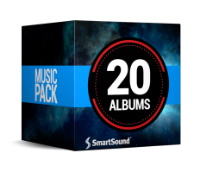 Best Deal - Album Packs!