Our products have changed!
We have updated our music licenses to provide you more flexibility and value. Please choose your product below.
This Young Man-Rap
A sprite hip-hop groove helps the cause in this rap track, featuring lyrics about being true to yourself and making it.
Choose your license:

Extended
Widest
Customizable with Sonicfire Pro and Quicktracks
Unlimited lifetime customizations
Personal and professional use
Promote a product or service
Videos created for a third party
Monetized videos on YouTube, Vimeo, Facebook, Etc.
Display at Film Festivals
Display in theaters
Unlimited In One Country
Unlimited, Internationally
Assign Distribution Rights
DVDs & Downloads
Up To 10000
Unlimited
Local TV/radio broadcasting/advertising
National TV/radio broadcasting/advertising
Royalty Free Music License Info
---
Want to save money?
Upgrade to a Music Pack
Or Buy The Whole Album
---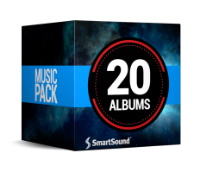 Best Deal - Album Packs!