Royalty Free Music Blog
What Is Royalty Free Music
October 20, 2011
Royalty Free Music (sometimes called Stock Music) is a popular music license model for producers of all types of projects that use music. Understanding the many ways to license production music can be complicated. But if you're just getting started, a Royalty Free Music License is probably your best option.
Ever wish you had written the theme song to TV's "I Love Lucy?" Given the "needle-drop" music licenses used when that song was born, you'd have been in clover for the rest of your life—assuming you were still with us, that is…
"Needle-drop" harks back to the way music was originally played, i.e., each time a phonograph needle was lowered to play a song on the radio, the artist would chalk up another little chunk of royalty.
The term stuck in music for TV shows, where the royalty was charged every time the project was publicly performed. There used to be lots more money in TV advertising, so this system worked.
It's great for the artist, but can be costly for independent film-makers. What you want is the perfect sound to back up your creative work, and the ability to turn out a professional product at a decent price.
You're not into piracy, or, let's face it, you wouldn't be on this site, but you need to know your costs up front without signing up for something that could go on forever.
Sync Licensing
Needle-Drop License is a subset of "Sync Licensing" a term for a larger system of royalties based on the fact that many projects (like movie scores) use music as part of the overall creative income-producing package. The sync license royalties are a percentage of the income from the project and are paid to the music copyright owners.
"Sync" refers to the fact that the music is not played on its own, but is synchronized with other parts of a complete production. Sync royalties are often negotiated on a case-by-case basis and can range from thousands to hundreds of thousands of dollars.
If you can afford it, says Smartsound President Kevin Klingler (see
"Four Elements of Scoring for Video Editors"
) hiring a music editor to create or choose the music for a production is still the best option, assuming you get the right person. It's a rare skill, he says, expensive and time-consuming, but a good music editor is a master of wringing the maximum emotion out of a scene by seamlessly matching the music to the mood.
Free Royalty-Free Music
At the other end of the spectrum are
"Creative Commons"
licenses. You're allowed to use the music for free in exchange for giving credit to the artist. This sounds inviting, Klingler says, but these licenses are pretty tricky, and nebulous as to who actually owns the rights.
Music Libraries – Stock Music
Stock music is not new. Hundreds of "music libraries" around the world have been supplying royalty-free music for the past 80-90 years. Unfortunately, the music is often delivered only in 15-second intervals; such as 15-seconds, 30-seconds, etc. It is very inflexible, and difficult to make music fit, if your short clip doesn't fit one of those increments.
Not only does Smartsound stand apart in that it allows you to
create clips any number of minutes and seconds in length
you need, it gives you infinite variations within the instrumentation itself.
Any song labeled "multi-track," allows you the flexibility to turn instrumentation on or off within a song to dramatically
change the mood of the track
. You get variety within the video piece, while keeping the underlying score consistent. Such customization is unknown in standard stock music.
(See
"The Smartsound Advantage"
for more on how the time customization of our system works for you.)
Advantages of Royalty-Free Music
Royalty-Free Music fills multiple needs of cost savings, the opportunity to give your video productions the polished sound of a professional music editor, and the security of a standard, well-defined license. Best of all you are helping ensure that the composers, musicians, and conductors are fairly compensated for their work--without risking the back-end unknowns of ongoing royalties.
Smartsound Royalty Free Music stands out from the crowd because it provides:
Nearly-infinite customization possibilities, between timing control, and instrumentation/vocals flexibility.
Music composed and performed by professionals created for TV, movies, and other production types
Reasonably priced, with deep volume discounts available.
Licensing taken care of by Smartsound.
Scalable system for everything from home movies to large production.
Over 3500 tracks in a myriad of musical styles and genres.
This all-inclusive product was created with the visually-creative you in mind. Regardless of your budget, Smartsound Royalty Free Music will multiply the impact of your creation, helping you seamlessly meld the music and the mood.
Production Type
Sonicfire Pro 6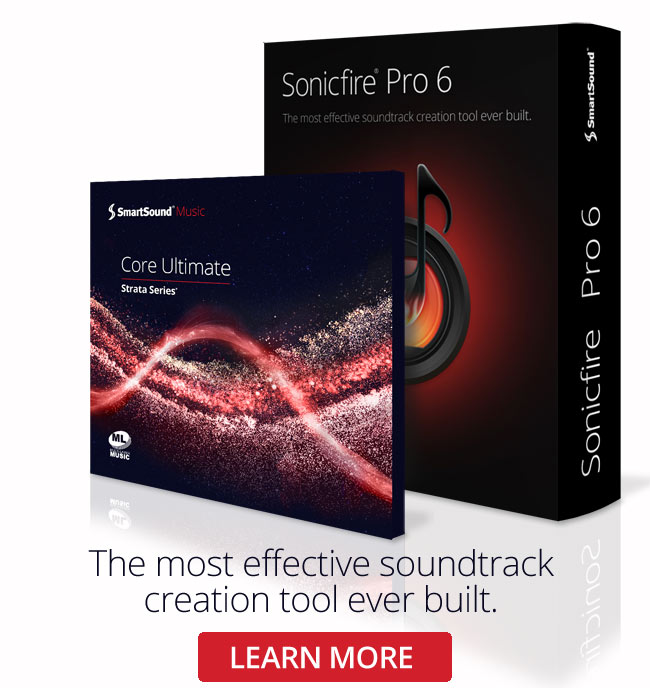 Sonicfire Pro 6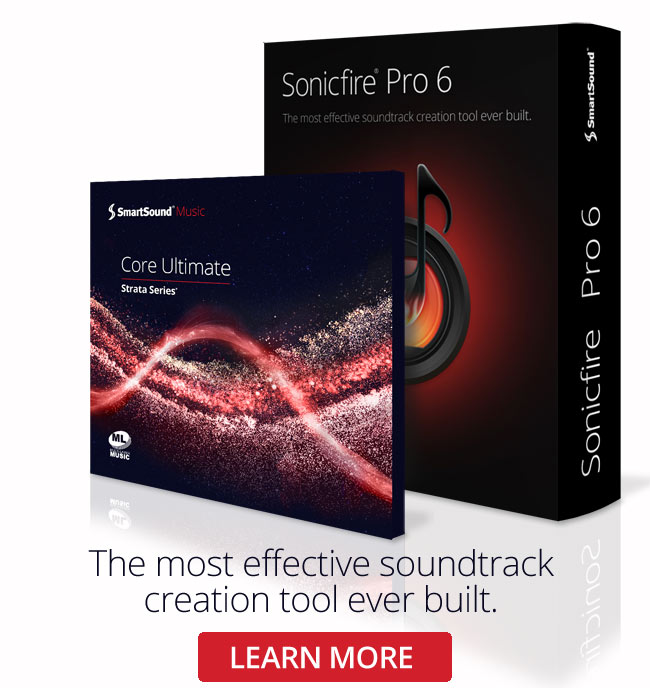 Genre
Featured Articles