Royalty Free Music Blog
Voxation Album: Phil Higgins
New Music ::
May 09, 2017
We are proud to offer this new album from an indie artist well on his way to establishing himself as a Southern California presence to be reckoned with. With the main-title theme for the Warner Brother's TV show "Hello Goodbye" as well as many tracks on buzz-worthy shows from MTV, TBS, Fox and more, Phil's writing and production stylings are classic, hook-ladened pop-rock in the best of traditions. As with all our Multi-Layer, Voxation series tracks, you have complete control over where, when and how you place the vocals - or even to not use the vocals at all when it suits your creative vision, making this music applicable to twice as many uses.
Tracks On The Album
The Girl you Are
A steady, upbeat rock song celebrating the completely the awe-inspiring surprise of getting the woman of your dreams.
You Make Me Stay
Another modern take on a classic beat with a catchy pop melody contrasting with the push-pull of staying in a seemingly one-sided relationship.
Woman Of My Dreams
Pulsating keyboards and beautiful, soaring guitar riffs lead this timeless rock ballad through a haunting love story about the adoration of one's true soulmate.
The One I Want
A classic high-energy, pop-rock party track about the unbelievable luck of being chosen by that special one.
The In Crowd
Another explosion of pop-perfection holding forth with ethereal synths, acoustic guitar, and a super-catchy vocal hook exploring the universal desire to fit in with the popular crowd.
Who Are You Today
In this clever track an opening triplet piano riff shifts gears to a ballad first verse which returns to a driving, unforgettable chorus about the mysteries of someone even very close to us.
Time To Say Goodbye
A full blend of acoustic & electric guitars, piano, and vocal harmonies sets the stage for heartfelt scenes of impending separation. Remove the vocals to provide a more generalized emotional appeal.
Run To You-PH
An interesting chromatic-based chord progression carries the verses as the melody shifts through several arrangements, culminating in a tasty guitar solo and finishing with an infectious chorus hook.
One Fine Mind
A soothing organ and a classic beat provides the bed for this haunting soliloquy of the personal resolve to hold out for the perfect match.
On A Jet Plane
An emotional rock track with a colorful palette of guitars, pulsing strings, and a solid backline describing the the fraught-filled decision to end a relationship.
SmartSound Professional
Inside The Music
Production Type
Sonicfire Pro 6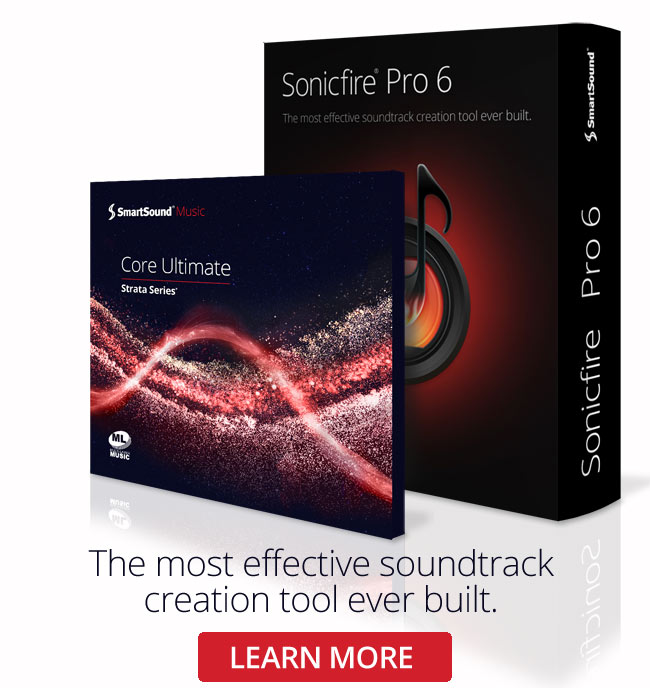 Sonicfire Pro 6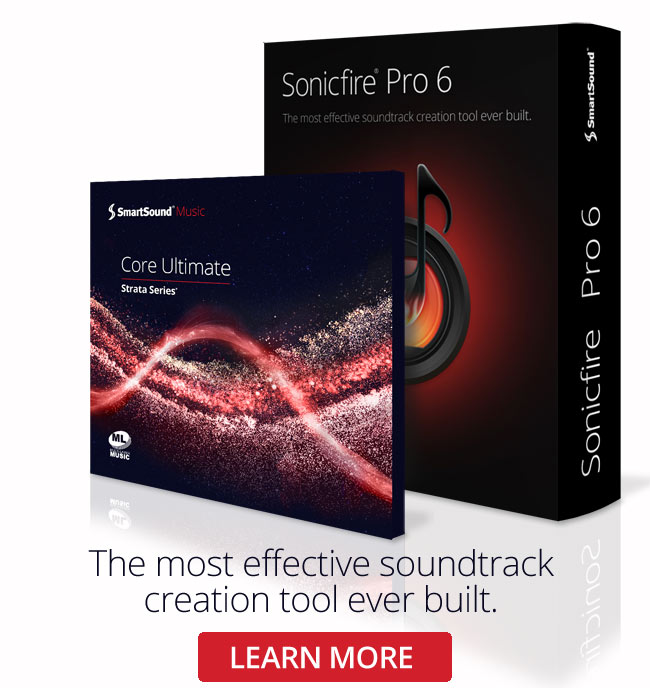 Genre
Featured Articles