Royalty Free Music Blog
Using SmartSound Search
Company News ::
October 29, 2015
There are over 4,000 completely customizable tracks and sound effects in the SmartSound library. While SmartSound technology allows you to tweak any of our tracks to perfectly fit your project's scenes, finding the right track to start with is still very important. That's why we created a completely new and streamlined process for finding the best track, now. Here are some invaluable tips for getting the most from our new search process.
Each track in our library has multiple moods and variations, all dependent upon the length and style of music you need. What that means is simple: there are - literally - millions of possibilities! The new search helps narrow and fine-tune your results, but still maintains room for creativity and expression within each track.
Figure 1 below shows a quick overview of the components of search. A - Basic search box. B - Main category Filters. C - Sub-category filters. But let's look at everything in detail.
Figure 1
Basic Search Box

Figure 2
At any point you can enter search terms to find what you are looking for - track name, album name, artist, you name it. An important thing to note is this: using the search box to create a new search will lose any filters you may have selected. Also, use a comma-separated list to create your search, such as: rock, action.
Main Filter Categories
Figure 3
These are the broad categories that we divide our library into. By clicking any one of the categories you will get a complete list of all of the sub-categories beneath it (Figure 4 below). From there you can narrow your search more. An important note, next to each sub-category (the arrow on Figure 4) you can see the number of tracks within that particular filter. For instance, clicking on the "Instruments" main category you can see that there are 38 tracks that feature an Oboe.
Why isn't Popular Searches a link? We are sure you noticed. The reason is simple. Popular Searches is a way for us to make seasonal searches easily available. We change them as needed. That's why you can find "Christmas" listed there in the months before the Christmas holidays, and "Patriotic" in the months leading up to the 4th of July (for our U.S. users).
Figure 4
Sub-Category Filters
The Sub-Category filters list our most popular sub-categories. Think of them as a short cut instead of going to the complete list.
Figure 5
Keywords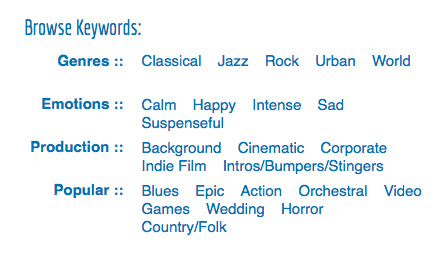 Figure 6
Once you have made a selection you will be able to refine your search even more by adding Keywords to it. This refinement allows you to get music that more precisely fits your production.
Sub-Category Filters
Once you have selected an initial filter you can delve even deeper into that selection. The Sub-Category filter is way to add additional parameters to your initial selection. For instance, in Figure 7 (below) our initial selection was "Guitar" (A). There are many tracks with other instruments associated with guitar. From here, as you can see, you can select "piano" or "drums" or others to go along with Guitar.
Figure 7
Currently Browsing
The currently Browsing section (Figure 8) has three purposes. First, you can see all of the filters you are currently working within. Second, at any time clicking on the "X" next to a filter will eliminate that filter from your results.

Figure 8
Currently Browsing - Exact or Closest Match
The third purpose of the Currently Browsing section is to give you Absolute or Relative results. Our default is to give you the closest match to your filters (relative). You can select "Exact Match" (Figure 8 - C) to get only tracks and albums that match your filters precisely (or absolutely). Anything that isn't an exact match is eliminated.
Figure 8C
Search Results, Additional Filters and Switching Your View
Figure 9 shows you what search results look like (grey boxes in Figure 9). There are a couple of other controls at your disposal when you reach this point.
Figure 9
Additional Filters
Additional Filters allows you to organize and narrow your search by 4 new methods: Albums, Composers, Release Dates and Multi-Layer tracks only. Clicking the Additional Filters link shows a pop-up box with these filters (Figure 10 below).
Figure 10
Switching Views
At any time you can switch views from Track View to Album View and back. (Figure 11) Some projects are large and complex, requiring a lot of music and possibilities. Albums may be the best solution for this (don't forget about Music Packs). If this is a one-off project where you need one track you may be better off searching for tracks. (Got a lot of work like that? Singles Packs are a great way to save money.)
Figure 11
Got a question or comment? Contact us.
SmartSound Professional
Inside The Music
Production Type
Sonicfire Pro 6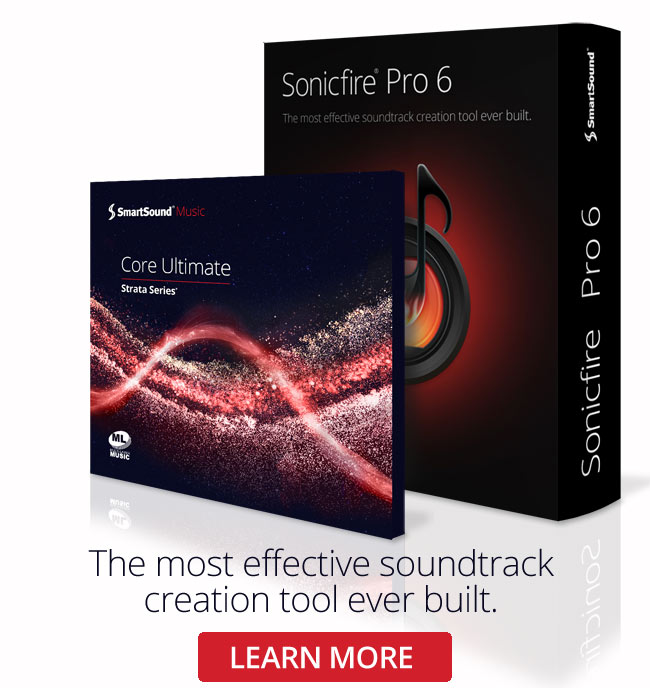 Sonicfire Pro 6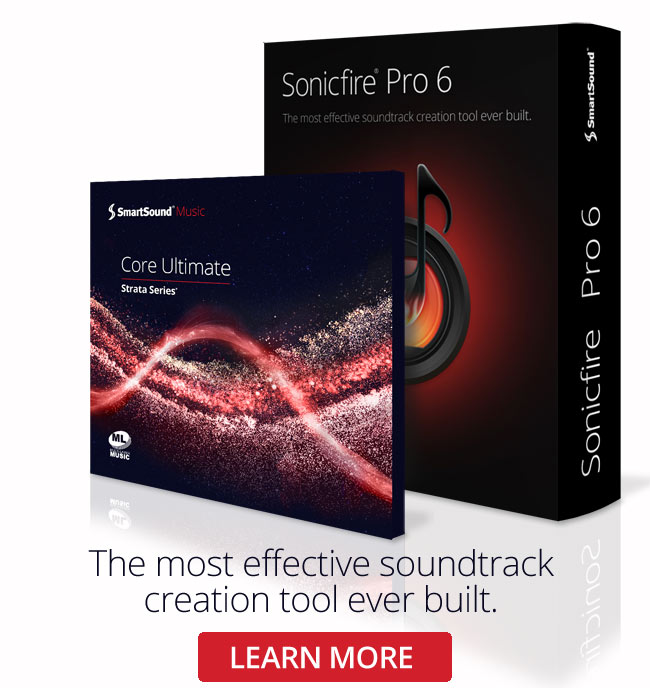 Genre
Featured Articles