Royalty Free Music Blog
Trailer Monuments - New Strata Series Album
New Music ::
March 29, 2016
A powerful set of tracks featuring exquisite live orchestra and vocals designed for highly dramatic sequences where audience immersion and high emotional involvement are sought. Using a variety of dramatic sonorities, these musical monuments vary from high-octane action, to heroic and more, all with a beguiling intensity. Use SmartSound's Custom Length, Mood Mapping and Timing Control technologies to match these perfectly to your dramatic visual moments.
Album Tracks:
The Honor
A glorious tale of honor and bravery, rewarded with rich, warm strings, proud brass, and uplifting vocal choir.
Cristal Sky
Follow this uplifting score as it journeys from a slow, alluring tempo to culminate in a thrilling fireworks display of strings and percussion.
Brave Hearts Of Atlantis
Swelling strings cushion an enchanting operatic melody, building confidence as subtle panes of dissonance keep the mood grounded in this majestic orchestral piece.
The Battle Of The Earth
A lush orchestral adventure rises to push your scenes towards a majestic climax, providing a perfect backdrop for any epic trailer. Features vocal choir.
Stardust
A solemn sotto voce paves the way to an insistent string figure, progressively soaring brass and choir take center stage and lead your heroes to victory.
Returning Home
This moving orchestral composition exudes a sense heroic achievement, where vanquished rivals lay in the past as the next journey begins.
Revenge Of The Demons
Danger lurks in the shadows as this jarring cinematic score forces your audience to the edge of their seats. A powerful drum kit supporting gothic choir drives to a powerful, climatic ending.
Into The Darkness
Prepare for a relentless storm of suspense with this thrilling orchestral piece, as the haunting gothic choir pushes your heroes towards cataclysmic events.
Going Home
This dramatic orchestral score coveys an uneasy sense of inevitability, leading your characters through an intense race against the clock. Features choir and solo vocals.
The Revenge Of The Damned
An eerie, chilling intro expands to invoke awe with soaring strings and luscious vocals, before climaxing in a thunderous crescendo.
SmartSound Professional
Inside The Music
Production Type
Sonicfire Pro 6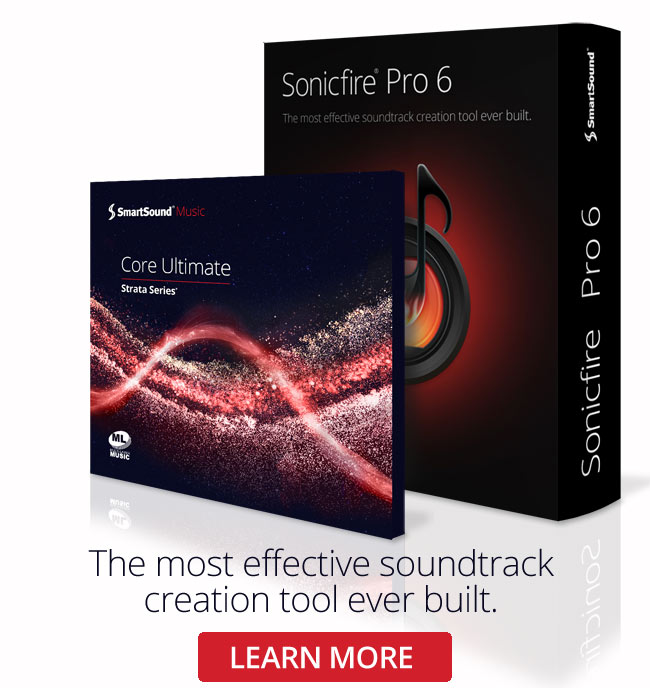 Sonicfire Pro 6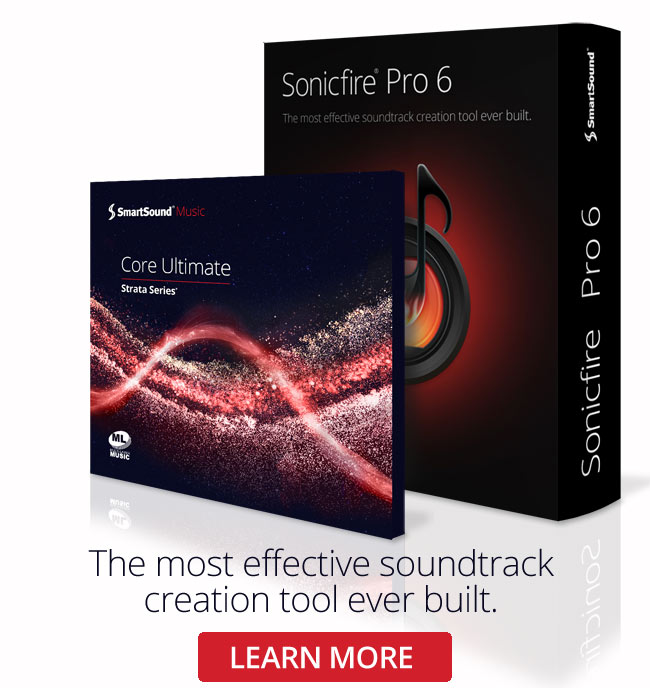 Genre
Featured Articles