Royalty Free Music Blog
Traditional Holiday Music
Genre ::
December 18, 2013
SmartSound Traditional Holiday music demonstrates how enduring old-fashioned holiday music can be, especially when given a jazzy new treatment.
For example, traditional Christmas carol, "O Come All Ye Faithful" was originally published in Latin -  ("Adeste Fidelis') in 1743, and the words may have originated in the 13th century.  This joyous Christmas staple comes in an easy rock arrangement that manages to sound modern, yet ancient at the same time—the electric guitar, sax, and drum brush come together in what sounds like an instrument you've never heard before—fluffy oboe?
Featured Traditional Holiday Music
Traditional German tune "O Tannenbaum," ("Oh, Christmas Tree") from Christmas Treasures brings in sax, strings, acoustic guitar and New Age Ensemble to create a serene, leisurely feel for a Christmas scene.
Holiday projects get a gentle, lyrical background with "Three Kings of Orient," originally released (!) in 1863 as "We Three Kings."  In this mellow version, jazz sax sets a ballad-like mood, spiritual, but a little pensive…maybe keeping our heroine company as she contemplates her own bittersweet journey home for the holidays…
Many Christmas carols were set to older tunes, and tender, lilting "Greensleeves," is no exception.  Possibly originating in 1686, this beautiful, earthy song has been adapted over and over, not only for Christmas songs, "What Child is This?" (1865), but for plays (Shakespeare), and movies—How the West Was Won, and even an early Elvis movie, Stay Away, Joe.  The Smartsound version features Pedal Steel Guitar, Violin, and Country Band, appearing as an easy-going country waltz.
The December Jewish holiday of Hannukah is represented on album Holiday Magic with sprightly "Hannukkah" a klezmer-like (Eastern European dance/wedding style) arrangement.  Ethnic ensemble and clarinet keep up the folk-style holiday theme.
Stately ballad "Rabbi Storyteller," tells a somber tale with clarinets, violin, and guitar.  Melancholy scenes in Travel projects will benefit from this Chamber Group background.
Savor the New Year with a medium tempo, big band version of "Auld Lang Syne," (1788)—roughly translated "For old times' sake."  Round out the traditional holiday season in sophisticated, leisurely style with SmartSound's elegant, nostalgic musical offerings.
News
SmartSound Professional
Production Type
Sonicfire Pro 6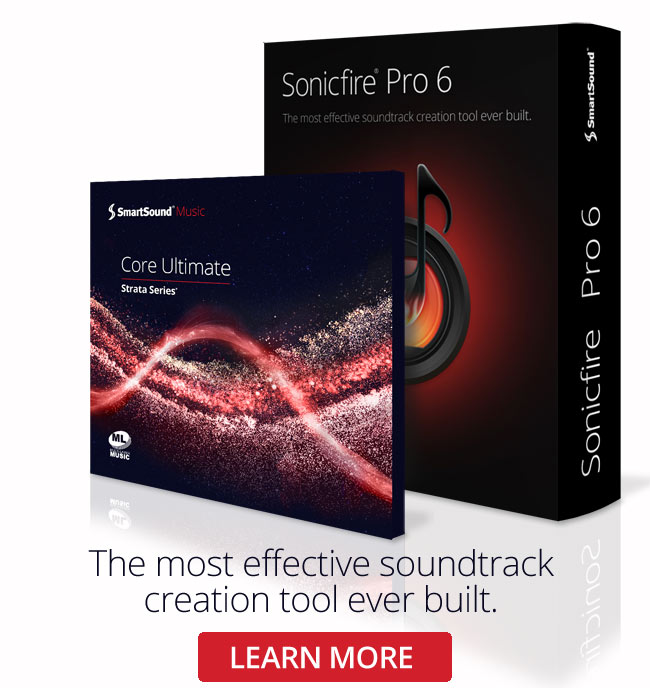 Sonicfire Pro 6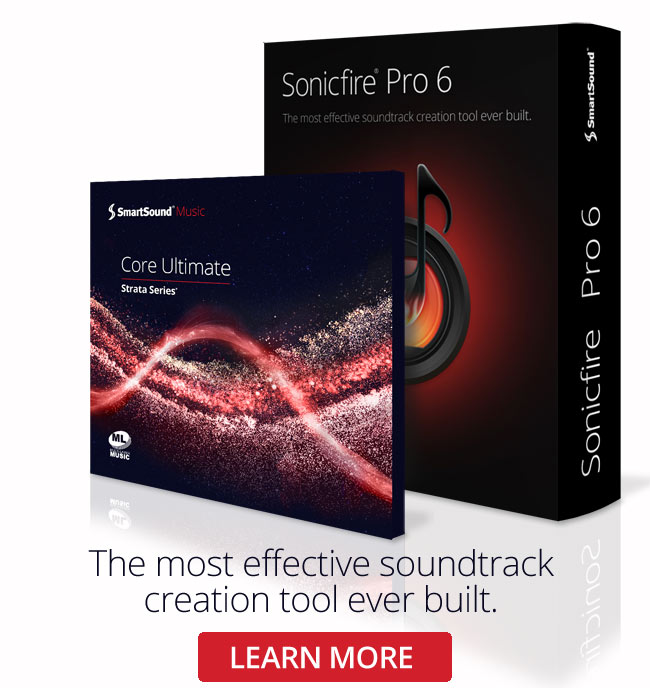 Genre
Featured Articles