Royalty Free Music Blog
Sonicfire® Pro 6
Company News ::
May 16, 2016
To our many loyal users and subscribers, we will say it bluntly: We have never made a product this good before. From its new powerhouse sound engine and its sleek efficient user interface with fully-integrated search, to its new Cut-Video-To-Music NLE export function, a significantly improved Timing Control feature, and more… Sonicfire Pro version 6 sets a new landmark in music soundtrack creation.
And it comes with a brand new album: Core Ultimate, aptly named for it's incredible quality and striking variety of styles. It includes: A themed three-track live-orchestra suite ideal for scoring entire movies when used with Sonicfire Pro 6's powerful technologies, a live vocal indie-rock song, cutting edge inspirational tracks, simple-happy, upbeat music, electronica and more (10 great tracks in all).
Owners of Sonicfire Pro versions 4 or 5 or higher can preorder the upgrade to Sonicfire Pro 6 now with its included Core Ultimate album for just $69.95.* That's both - the new breakthrough in software-based soundtrack creation for media and this killer new album - for less than the cost of a single album. New to Sonicfire Pro? Preorder your copy now for only $179 - offer ends May 31.**
Find out why Sonicfire Pro 6 is the most effective soundtrack creation tool ever built.
LEARN MORE | Preorder Upgrade - $69.95 | Preorder - $179
* Must have a version 4, version 5 or higher serial number registered to your SmartSound account to qualify. Free version serial numbers are not applicable.
** Regular price will be $199 - offer ends May 31, 2016.
SmartSound Professional
Inside The Music
Production Type
Sonicfire Pro 6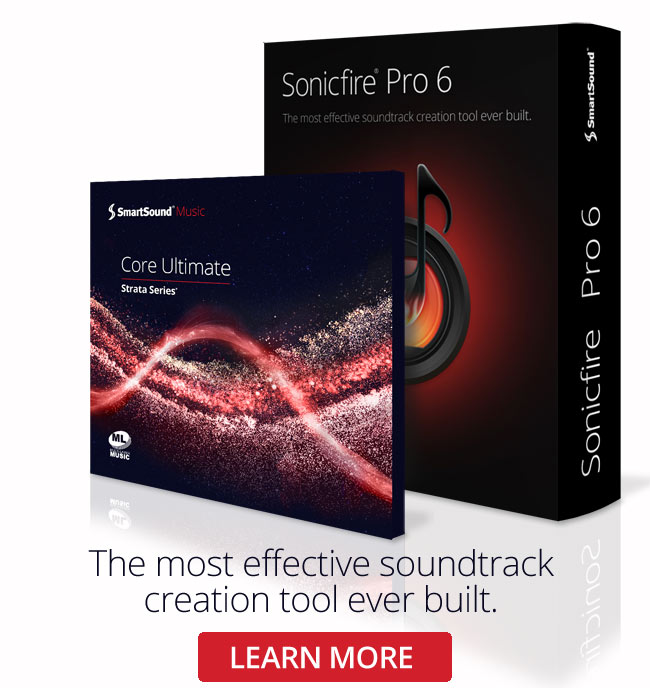 Sonicfire Pro 6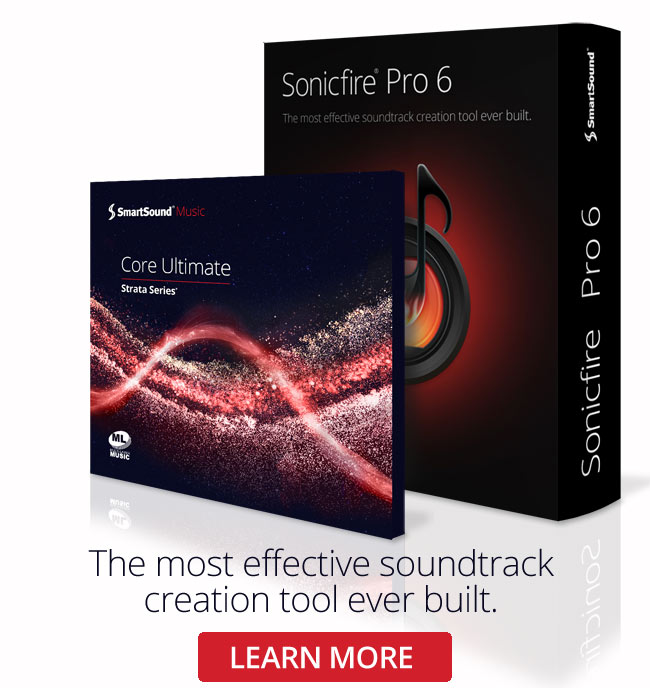 Genre
Featured Articles