Royalty Free Music Blog
Serious Spy Music
Mood Emotion ::
April 17, 2015
Name That Song
You can probably hum the theme song to James Bond, the Pink Panther or Mission: Impossible—all memorable spy movies with music which helped catapult these movie franchises to the top of classic movie charts. Villains, spies and secret agents all benefit from tension-laden spy music. Score your next serious spy scene with music from the SmartSound's expansive royalty free library and cue up a soundtrack that will load your scenes with drama and tension.
Featured Serious Spy Music
Intrigue and Danger
Elevate your audience's experience with Dangerous Transaction from the album Intrigue & Tension, for a multi-layered soundtrack whose brooding and somber mood is ideal background music for sinister scenes. Dangerous Transaction features strings and horns that ebb and flow in a haunting, intriguing manner. Seriously epic spy music can also be heard on the album Character Study so give a spin to Trespass as it percolates with suspenseful and tense drama to create a brooding, mysterious mood.
You'll also like Dark Whisper from the album Cinematic Exploration—a haunting, hypnotic piece with sinister undertones. Dark Whisper builds into a sinister, uncertain beat evolving to a sad, dark mood. Flip to Crucial Dossier from the album Atmospheric Energy as it pounds with drums, bass and electronica royalty to etch out a driving, energetic, pulsating beat. Place your villain in the center of the Crucial Dossier soundtrack for a high-flying backdrop.
Tender Moments
SmartSound also features serious spy music on the album Tender Moments with Fragile Dream and Nostalgic Waltz as every spy-guy-and-gal needs their downtime. Fragile Dream opens with a delicate, reflective mood broadcast by emotional and tender strings, piano and flute while Nostalgic Waltz adds an emotional ethereal quality to brooding spy scenes.
SmartSound delivers quality serious spy music ideal for many moods and scenes that's not only guaranteed royalty-free but able to be customized to the exact length of your feature. SmartSound strives to bring you endless options so all of your projects will shine.
SmartSound—The Only Customizable Royalty Free Music Library.
News
SmartSound Professional
Production Type
Sonicfire Pro 6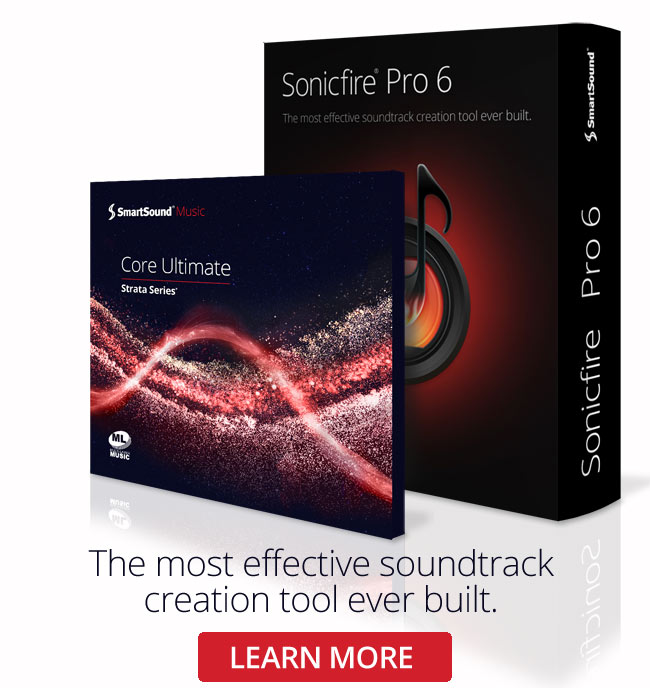 Sonicfire Pro 6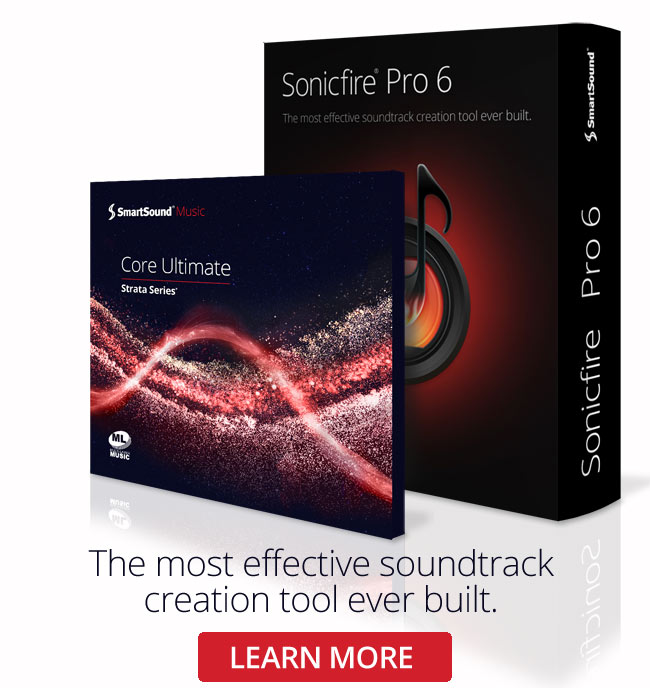 Genre
Featured Articles