Royalty Free Music Blog
Rules of Story Telling According to Pixar
Tutorials & Tips ::
January 01, 2016
Kickstart the New Year with some basic tips on storytelling. You can read them in all their glory over at Gizmodo And while the advice barely scratches topics of plot, story arc or pacing, Pixar's 22 Rules do a fantastic job relaying the kind of content they want to see in their scripts - which is good advice for anyone writing character-driven fiction
● Determining character goals
● Filling in the blanks to develop story goals - what's the story about?
● Avoiding the predictable; get that out of the way and go beyond
● Get it down, get it done - you can fiddle with it forever and never make it "perfect". (And if you've ever read a book or watched a movie, you know nothing is ever truly perfect.) Imperfections make it memorable, if they aren't embarrassing.
● Don't get bogged down fixing a broken spot - move on, and come back fresh later

That's just a glimmer of what's covered, of course, but the idea is clear and the advice is excellent. Following Pixar's rules will help just about any writer nail their story or script.
But,can the same "rules" apply to choosing music for the resulting video or movie? Possibly. Here is some advice when searching for Royalty-Free Music on SmartSound, to nail the video and trigger the best audience emotions for the scene.
● Audiences like striving more than succeeding; ratchet up the music during conflict scenes
● It doesn't matter what music is "interesting", so much as what connects with audiences appropriate to the scene's theme.
● Find background scores for the ending before you do so for the middle. The ending is key!
● If you're stuck for what style of music does work, try making a list of what doesn't. This can often springboard inspiration.
● Consider videos and movies you like, that have a similar scene to yours. What kind of music is playing? Chances are, if it works for their scene, something similar will work well for your scene.
● Sometimes, instead of picking music based on what is going on in the scene, it can be more effective to find music that echoes the character's emotions - and will bring out the same emotions in your audience.
Videographers and movie makers know that picking music for scenes is challenging. Editing them into the scene in a way that matches the ebb and flow of tension/action is even more of a challenge. But with SmartSound's royalty-free music search, finding the right score is a lot easier. Better still, SmartSound's award-winning technology makes it a breeze to edit in - adjust length to perfectly match the scene. Use Mood-Mapping Technology to get just the right fit to bring audience along for the ride. Use Variations and different Instrument Mixes on any track to customize it further. With the tools available from SmartSound, nail the next scene quickly and easily, and get back to what's important - making videos.
Production Type
Sonicfire Pro 6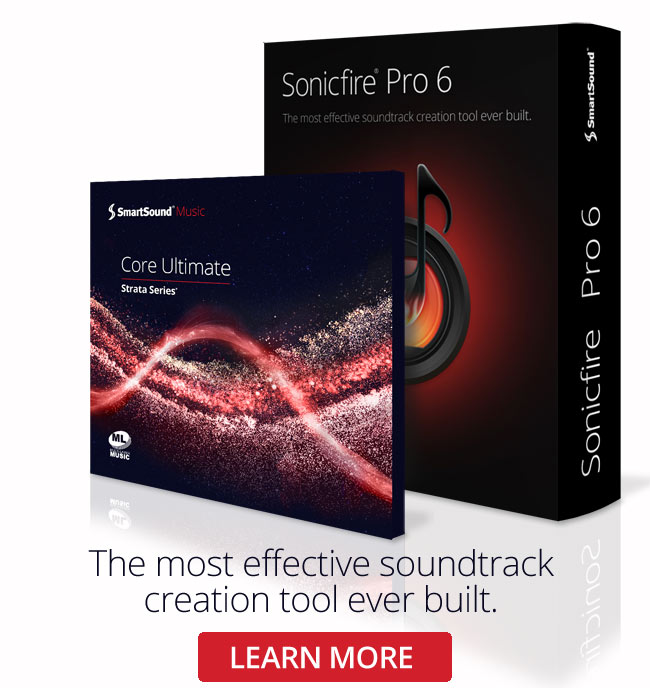 Sonicfire Pro 6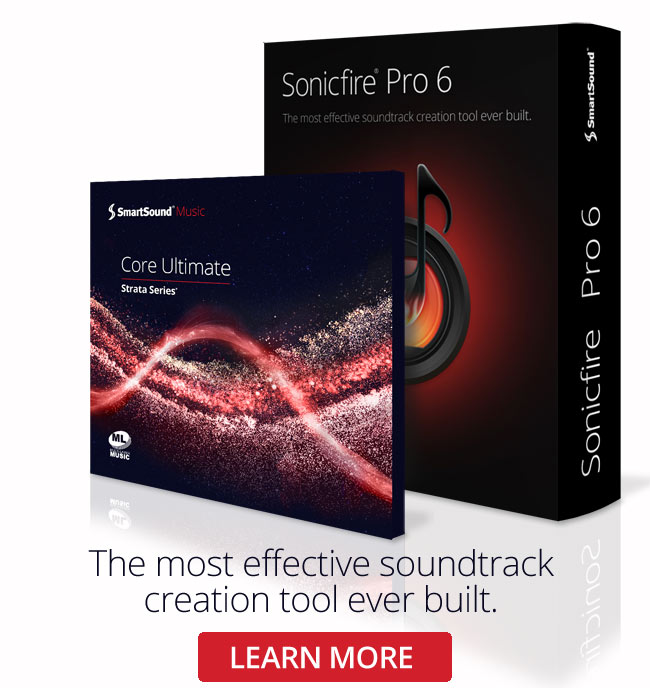 Genre
Featured Articles