Royalty Free Music Blog
Royalty Free World Music
Genre ::
July 07, 2014
As usual music transports viewers wherever you want them, faster than anything, except the sense of smell.  These examples from SmartSound's collection of Royalty Free World Music demonstrate how you can make them feel almost-at-home with a recognizable ethnic sound, or disorient with rhythms and instrument too general to immediately pinpoint.
Featured Royalty Free World Music
World Cinema's Maharaja is a true exotic; add desert mystery with this Middle East/India venture featuring ethnic ensemble and ethnic flute.  Its measured strains are perfect for setting a scene, or moving the heroine/hero through a time passage where all seems new, strange and tentative.  Variations such as Bombay, Temple, and Mirage suggest its versatility.  Characters in your Film or Travel production may wonder where they've landed this time.
With a livelier beat, Forgiven & Forgotten (Spanish Heart) suggest that, for the time being, all is well between the passionate lovers; they are dancing with perfect accord.  Acoustic Guitar and strings take the stage leading Latin band in this sensual ballad.
Skin Deep merely brushes against the world genre with some "we are all one" background vocals in album The Skank Agents.  Otherwise it's a slammin outing with all sorts of instruments clanging out the news, saxophone, trumpet, Rock/Pop band, in frenetic Ska/Punk Rock style.  Back up Home Videos, or ski holiday vacation scenes.
For more on The Skank Agents see our post on Feb. 24, 2011
From Celtic Spring, Morrison's Jig is definitely more pinpointed as to the exact part of the world you're in.  Transport viewers instantly to Ireland with this lively, festive dance tune featuring dulcimer, penny whistle and percussion.  Add flair to Nature and Documentaries, as well as the more obvious Travel location.
Not only does Napoli from Across Borders evoke unequivocally the Italian scene, it even sounds like it's a serenade in a county Italian restaurant.  You can almost smell the ravioli and meatballs, thanks to trilling mandolin.
World music sets the stage, not only for the part of the world your scene represents, but the melancholy, romantic, or relaxed mood the characters may feel by traveling to distant shores.
SmartSound - The Only Customizable Royalty Free Music Library.
News
SmartSound Professional
Production Type
Sonicfire Pro 6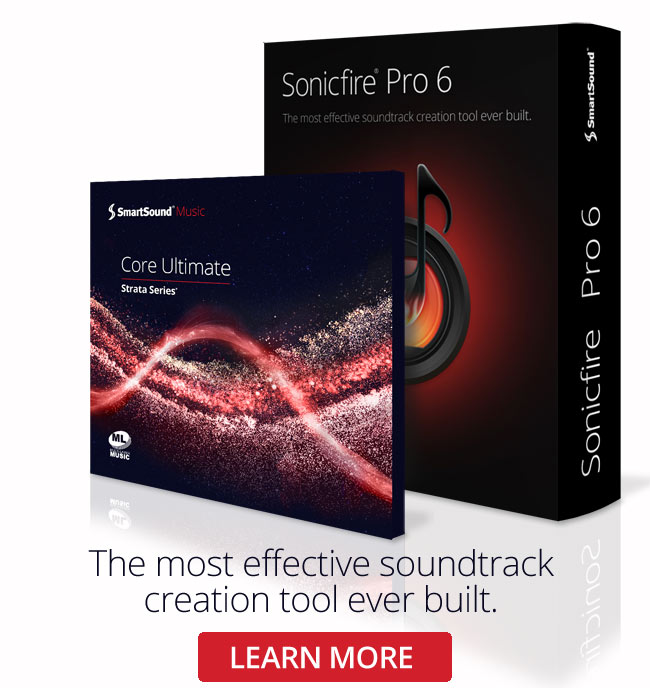 Sonicfire Pro 6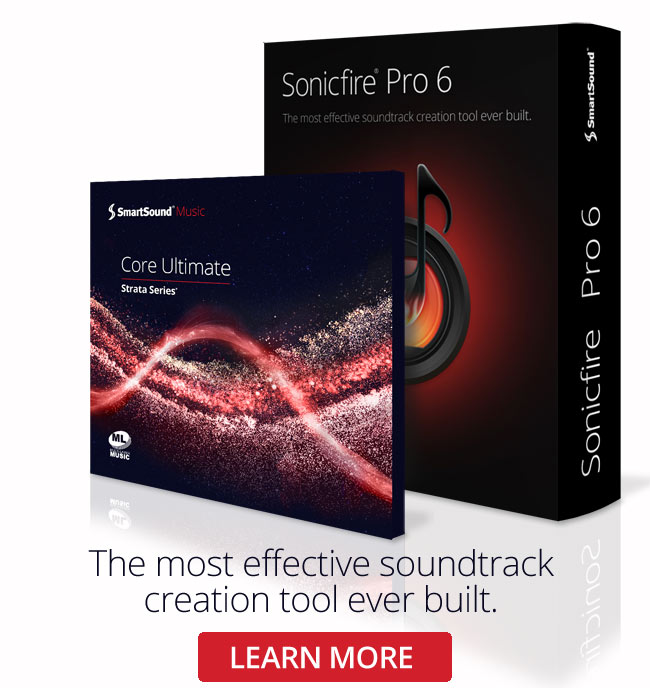 Genre
Featured Articles