Royalty Free Music Blog
Royalty Free Wedding Music
Production ::
November 05, 2013
With Royalty Free Wedding Music you may be cuing up the evocative strains for a real wedding, or for the perfect cinematic portrayal. Often, in the movies, the traditional tunes take precedence over what might more commonly be played at a real wedding, in order to instantly transport the audience to the nuptial mood.

Baroque, festive Trumpet Voluntary, from album Wedding Classics, for example, rules the land with majestic trumpet and organ duet, but it might be a little O.T.T. (Over The Top) for the normal blushing bride!

Featured Royalty Free Wedding Music
Check out our previous post:
Royalty Free Music for Wedding Videos
, for some detail on traditional wedding marches/favorites.
Here's a selections of lesser-known tracks just right for adding unique twist to the wedding score:
For the non-traditional wedding, or just to add some pizzazz to the pre-wedding jitters of the bride getting ready, we like refreshing
Back Where We Belong
, from the
Bright Horizons
album.
Serene
Altar Prayer
, from
Inspirational Guitar
adds Chamber Group to Acoustic Guitar for a tender, romantic background ballad to wedding footage. In this sweet song for a real-life wedding, from the same album,
Hope of Glory
, syncopated percussion pleasantly fills the heart with happiness.
Elegant
Knowing You
, from
Richard Band, Vol. 6 - Family
, tweaks the pastoral, heartwarming mood with a smirky light-hearted twist in the tempo. Be sure to stretch it out long enough to catch the wave; otherwise it will just come out soothing and calm—and, you know, every wedding needs a few laughs to be truly memorable!
The guests have seen the bride and groom off for their honeymoon, and continued to dance all night. Here's a perfect song to signal the party's over and send them gently on their way. From
Poetic Piano
, mellow, jazz-influenced
Morning
, wraps up a beautiful event on a hopeful, happy note.
No matter whether you're scoring a wedding scene, adding tone to a wedding video, or creating music for the real thing, count on Smartsound's extensive collective of
Royalty Free Wedding Music
to lend the perfect air to the wedding ambience; sophisticated and elegant, or sweet and quirky!
SmartSound is
Royalty Free Music
made easy!
News
SmartSound Professional
Production Type
Sonicfire Pro 6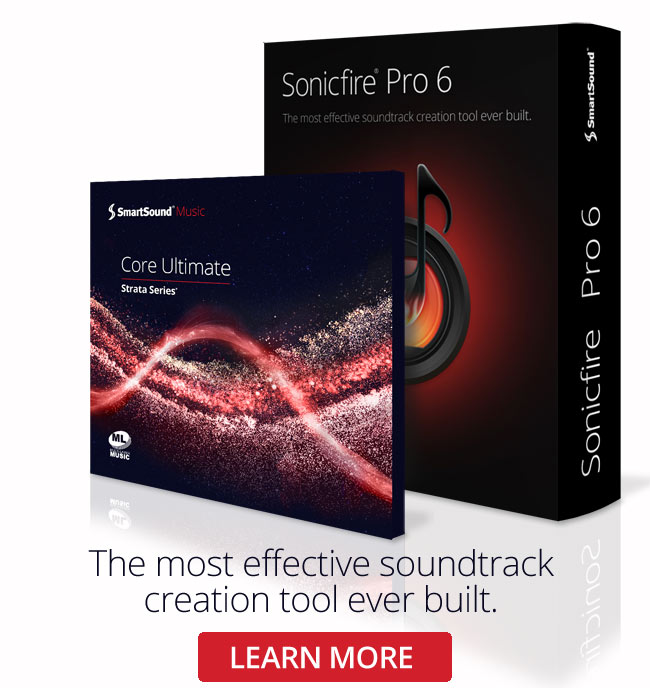 Sonicfire Pro 6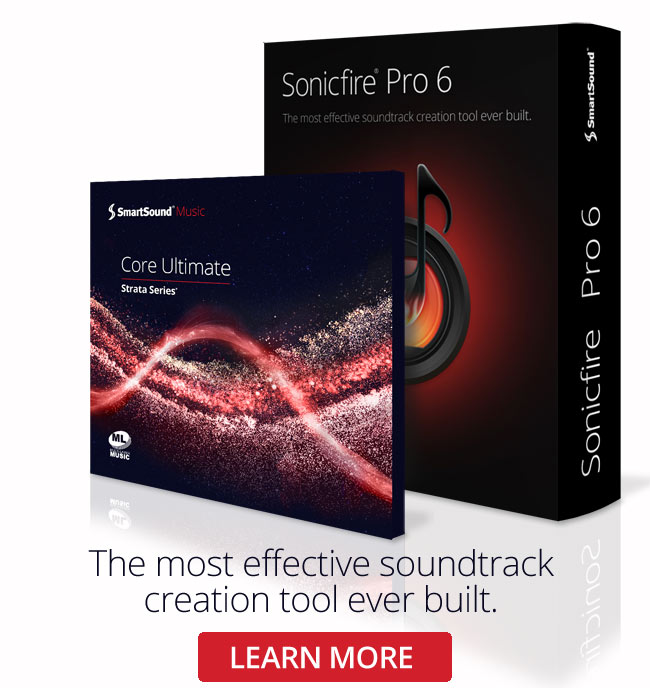 Genre
Featured Articles