Royalty Free Music Blog
New Orchestral Music – Above and Beyond
June 26, 2013
The rich panorama of orchestral cues, moods and drama finds a home in one of the newest Smartsound releases, Above and Beyond.  Chilean–Italian composer, Francisco Becker (see also posts on albums Beauty and Strength, June 18, 2012, and A Breath of Fresh Air, October 19, 2012.) returns as composer of this superb set of inspiring and energetic orchestral tracks.
Featured New Orchestral Music – Above and Beyond
The album starts out with a flourish on "Flash Alert," bold, fierce, and incessant, with enough power to carry your video project through any action scene, or even back up the drama of the nightly news.  Think epic, courageous and powerful.
Quiet and touching piano weaves throughout "Illuminated Mind," sometimes taking the melody, and other times ringing in a reflective counterpoint to the swelling and fading strings of the Studio Orchestra.  This piece will carry the dramatic storyline through all its ups and downs, with the ever-present piano steadfast as a beating heart.
Taking a lighter tone, "Illusion" adds whimsical marimba to full orchestra creating lively, innocent sequences perfect for scenes with children.  Refreshing and hopeful, the depth of the instrumentation nevertheless reflects the sometimes seriousness of the inner life of children.  Serene "Remembrance" adds woodwind melodies to the mix, calling to mind kids in happy scenes, innocence and angelic tenderness.
Marimba, castanets and theremin join the orchestra in a fun, quirky tune called "Spooky Mystery."  Kid spies are almost mandatory to match the sneaky, tongue-in-cheek flavor of this track.
Despite its terrifying title, "The Abyss" uses majestic strings to set an ethereal mood, both mystical and soothing.  This abyss would be one you'd love to fall into—falling in love, perchance?  Choose full orchestration, and you could even use this uplifting piece for corporate or training video backgrounds.
Royalty free orchestral music evokes everything from sweeping cinematic vistas to delicate scenes of tender emotion.  Dense instrumentation provides unending variation when used with SonicFire Pro's Mood Mapping feature.  Above and Beyond rises to the occasion, backing up your dramatic scoring with the breadth and depth of expression you need.
For more on Royalty Free Orchestral Music, see related blog post from May 2, 2012.
SmartSound is
Royalty Free Music
made easy!
Production Type
Sonicfire Pro 6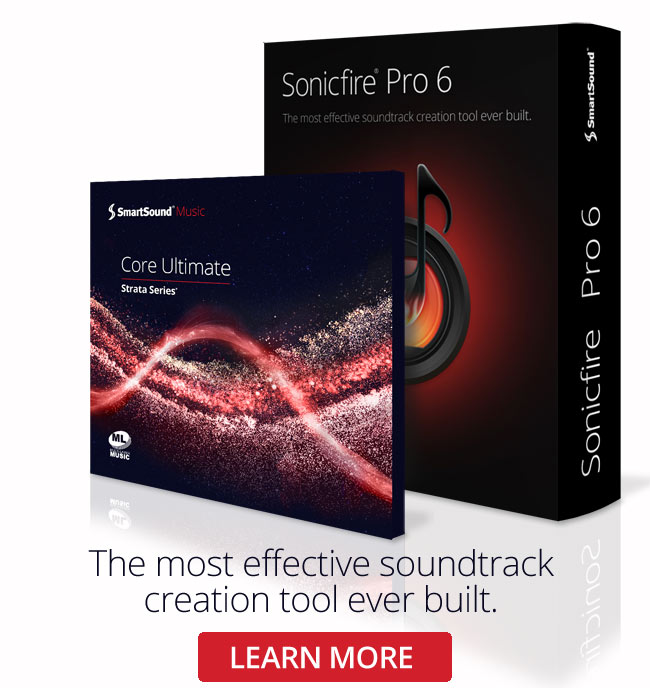 Sonicfire Pro 6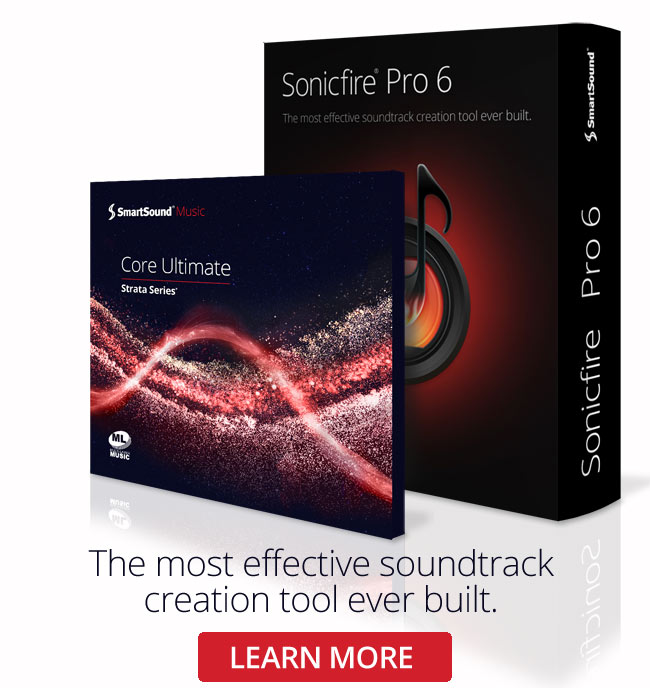 Genre
Featured Articles