Royalty Free Music Blog
Royalty Free Instrumental Music
Genre ::
March 14, 2015
Let's face it. Much of SmartSound's Royalty Free Music is instrumental. But, just for fun we punched it into the search box, since, it seems, some of our visitors are searching the term. The highlighted tracks that showed up were a compelling mix.
Featured Royalty Free Instrumental Music
Positive Instrumental Production Music
Album Bright Future features songs geared towards discovery and positive forward motion. Refreshing Building Blocks, employs Corporate/Industrial style for a shimmering backdrop to Corporate Communications and Training numbers.

Gentle, pensive Great People to Meet, is billed as "an introspective instrumental" good for informative or inspiring messages. Piano and strings lead the way for the Studio Orchestra.

Dynamic Scoring Music
Taking off in another direction, Amotz Plessner & Friends' many albums always strike awe-inspiring and breathtaking chords. Volume 3 - Dynamic Scoring is no exception. Cinematic The 6 to Nowhere, plays a dramatic role in Film Trailers, Action-Dramas; it starts out sparse, then builds to a whirlwind climax.

Raw, tense, Undefeated, backs up action sequences, such as in competitive Video Games--a gritty rock cut with an angry bass hook.
Smooth, melodic instrumental tracks from Light and Jazzy lighten the mood for projects requiring a mellow touch, such as travel and underwater footage. Stroll into a smoky nightclub After Eight and check out the Bluesy Jazz Combo. Liquid guitar licks and relaxed piano make it a perfect background for On Hold music, especially when you'd like to put your listeners into a quiet mood.

Acoustic, Zydeco offering, Bayou Breeze, is completely charming, laid-back and calming. The Louisiana accent is there, but so understated it barely ripples the surface. Country Band smooths out transitions in your footage, with an earthy and catchy Country/Folk style.
Instrumental is right at home in funky tracks from Attention Grabbers. An Animation project gets a tongue-in-cheek treatment with Piano and Jazz combo Charlie Dilbert, while confident Hot Box, punches up Training and On Hold Music with Harmonica, Rock/Pop Band and Electric Guitar—featuring strong rock influence; dark and very rhythmic section.

Royalty Free Instrumental music really reigns supreme at Smartsound, with thousands of tracks, from glorious to glitzy, to giggle-inducing. Put it to work with the Smartsound Advantage to craft a perfect background to your tastiest video productions.

SmartSound is Royalty Free Music made easy!
News
SmartSound Professional
Production Type
Sonicfire Pro 6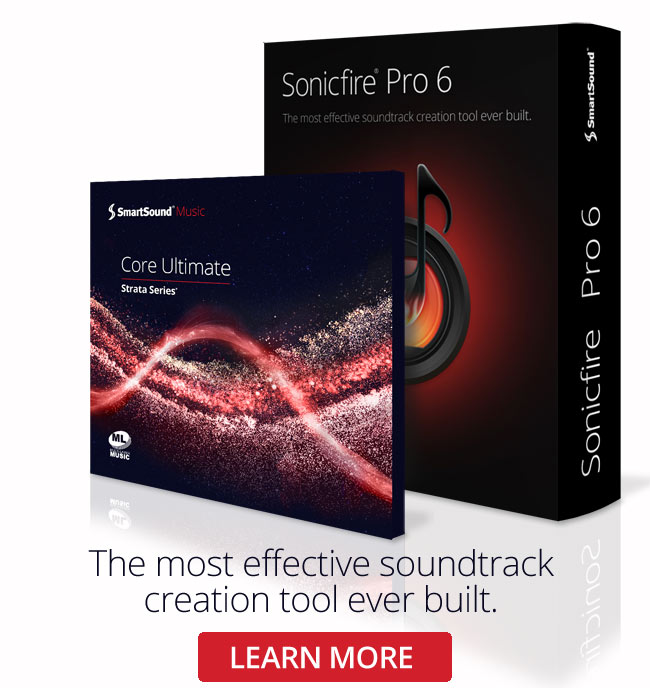 Sonicfire Pro 6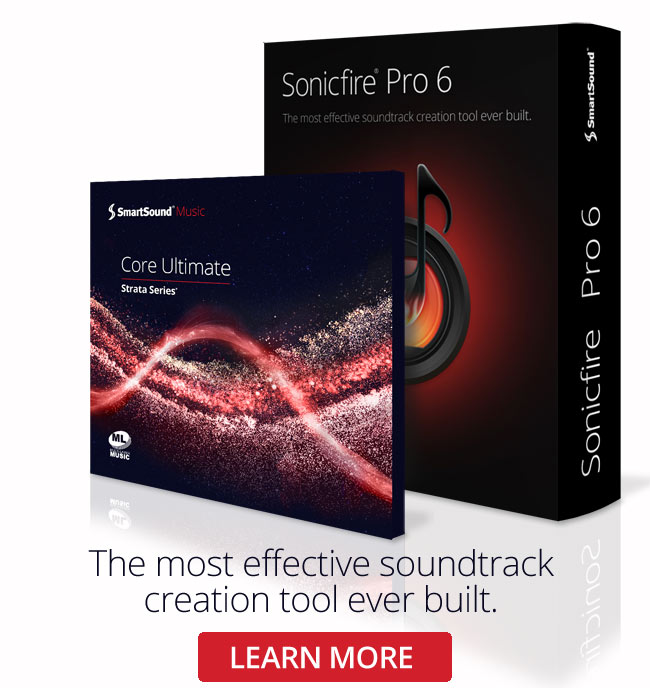 Genre
Featured Articles