Royalty Free Music Blog
Royalty Free Indian Music
Genre ::
May 29, 2014
SmartSound has much to choose from in the realm of Royalty Free Indian Music, starting with India's Mantra from Scoring Essentials. This hypnotic, sensual, earthy track, perfect for short film, meditation, massage therapy, or any contemplative venue features multiple exotic instruments from drones to large-bore wooden flutes to rhythmic tablas.
Featured Royalty Free Indian Music

Transcend the ordinary for your home videos and travel ventures with soothing, mysterious Indian Sitar, from the Global Voyage collection. "Sometimes short like a ripple in a puddle along the Ganges, sometimes long and weaving like a cobra, each melody slides its way into the ear." The solo sitar played over a drone, is the classic sound we associate with music from India, and it never fails to add a mystical, cultural note to your projects.

Album World's Apart provides two pulsating, electronic tracks to add spice and intrigue to your world-savvy short films, and Indie films. Worldly commerce gets a trance-like background in Bombay Tech, while Delhi Nights' incessant strains bring in chill dance elements.

Background track Project KOKA from Club Fever brings the east to the club scene. With pulsating electronica, this upbeat dance outing with bold male vocals practically yells "Bollywood!" If you ever wanted to put squadrons of elephants, or dozens of dancers in a video, "Project KOKA's" your song.

A driving, energetic beat from Ethnic Infusion gives Spiritual Detour the taste of Indian music for projects needing a contemporary world statement. Expand the horizons of your travel or home video with this hypnotic ensemble piece.

The universal appeal of Indian music is evidenced by its presence in the most contemporary projects. It even shows up in SmartSound's recent release, Tomorrow, from the Jade Element album. It's serious, yet upbeat teaming with R&B Soul shows the instantly recognizable exotic flavor Indian music brings to mind.

Gandhi was right – non-violent protest can work. Like the Beatles peaceful "invasion" of the Soviet Union, Indian music breaks down barriers wherever it goes as well!
SmartSound is Royalty Free Music that fits.
News
SmartSound Professional
Production Type
Sonicfire Pro 6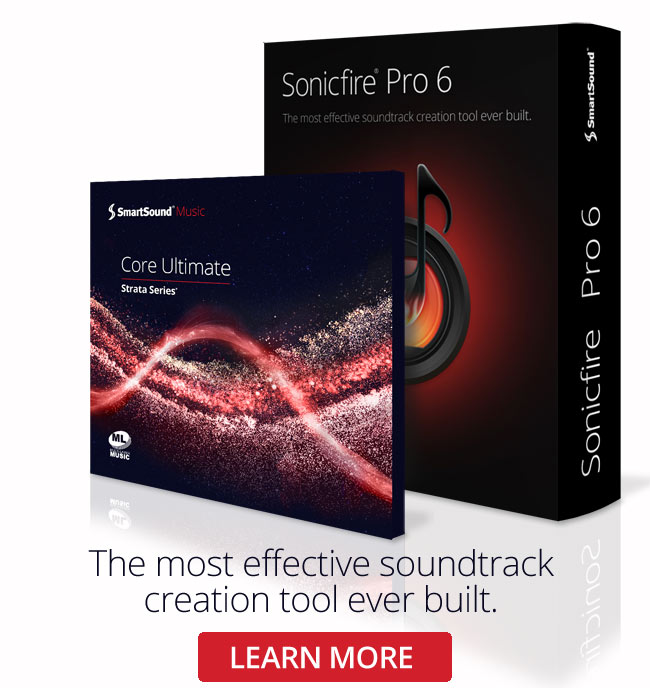 Sonicfire Pro 6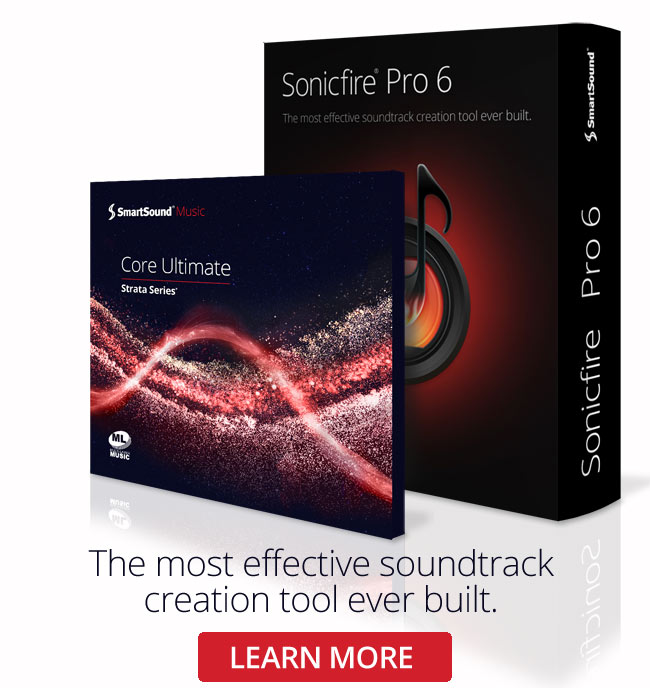 Genre
Featured Articles