Royalty Free Music Blog
Royalty Free Calm World Music
Genre ::
November 20, 2015
Many video projects require background tracks or scene music that is… A little different. If royalty-free music inspired by cultures around the world is needed, one only has to use SmartSound's music search to find a wealth of tracks to use.
Featured Royalty Free Calm World Music

Consider, for example, a search on Calming World Music. Dozens of tracks show up. A glance at just a few of the results that show up will give a taste of the variety of tracks available to videographers and video game producers:


For an Asian-inspired earthy

folk

track that inspires serenity and spirituality, consider

Song of the Crane

from the album,

Across Borders

, which brilliantly uses the traditional Japanese flute, the shakuhachi, and other authentic instruments. And, with 4 variations, the same track fulfills multiple roles all while maintaining the cultural authenticity and tranquility of the default variation.
Bonnie Green

from the album,

Celtic Adventures

, takes you to the other side of the world,

inspiring

images of green hills and ancient mythology. This atmospheric and emotional Irish track is perfect for pastoral scenes, and 5 variations with 11 instrument mixes ensure it can be tailored to perfectly fit the scene. The native Irish whistle and bagpipes blend seamlessly, really showing off what these instruments are capable of in expert hands.
Travel scenes that montage deep personal growth, for example, will be a great fit for

A Simpler Time

, a track off the

Acoustic Textures (PS71)

album.It manages to be heart-warming and intimate with its serene guitar and instrumental rhythm, perfectly accompanying the subtle piano play.
The African-inspired

Strength in Tears

track from the

Captivating Portaits

album is exotic and earthy, inspiring hope and tranquility. The authentic African flute alters and enhances the guitar and other, more modern instruments. With available variations and instrument mixes, the track can also be somber and reflective, fitting a variety of scenes.
 For a romantic Latin or Italian ballad, look no further than

Santa Lucia

from the album,

International Treasures

. This relaxed instrumental includes both accordion and mandolin, so you know it's going to fit any restaurant scene with two dogs eating spaghetti in the moonlight.

Each of the tracks can be tailored to any specific length desired, perfectly fitting the intended scene. Editing background tracks into scenes is usually time-consuming, but with SmartSound's award-winning, patented technology it's as easy and breezy as these tracks.
SmartSound—The Only Customizable Royalty Free Music Library.
News
SmartSound Professional
Production Type
Sonicfire Pro 6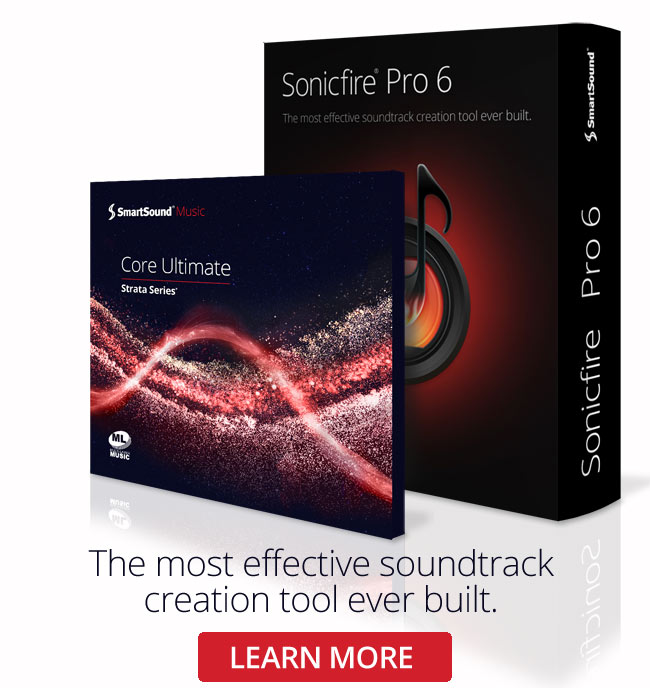 Sonicfire Pro 6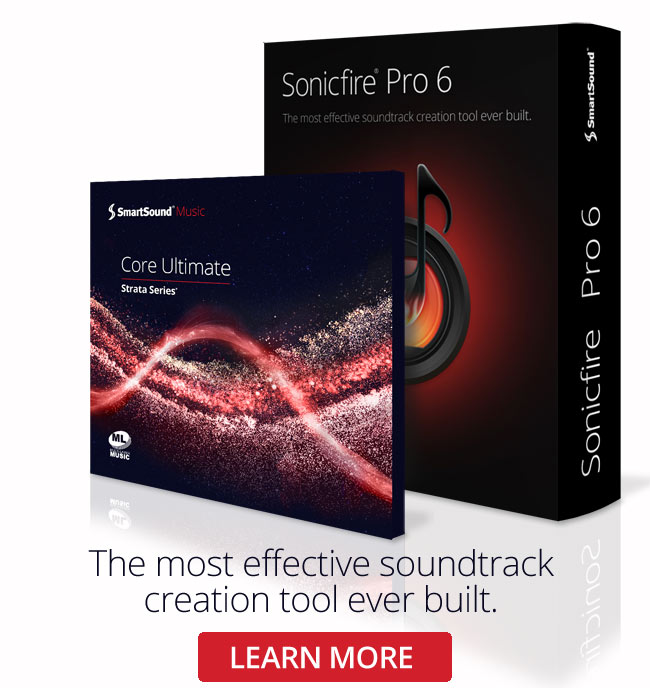 Genre
Featured Articles