Royalty Free Music Blog
Royalty Free African Music
Genre ::
August 16, 2013
If Africa is the cradle of humanity, African music is the cradle of all modern music, with a compelling, incessant beat, and an earthy energy. Pop, rock, soul, R&B, gospel, rap, and hip hop all trace their roots to the primitive soul of the African home.
Featured Royalty Free African Music
Many Smartsound albums featuring Royalty Free African Music are compilations of several exotic themes around the world, as diverse as they are world-conscious and sophisticated. Check out World Beat for a collection of traditional sounds and contemporary arrangements.

Start on the African Coast and add a refreshing, carefree spirit to your travelogue or film score, with this surprising combo of ethnic ensemble and saxophone. Shakers, log drum and vocals are contribute their festive notes.   

Continue on Safari to create a panorama of wide-open tundra and dark jungles. A World-style track with African drums, marimba and digital voices tossed into the rhythmic, ethereal mix. Mysterious, New Age elements take it up a notch with hypnotic track, Call To Spirits, from the album Mystical/Percussive/Soundscapes. A long journey through hot sun and still nights is evoked with cavernous drums, cascading shells, and jungle intensity.     The album features percussive backdrops influenced by many exotic cultures from Africa to Asia to ancient America, for backdrops that lend drama, mystery, or suspense to your next project.
We especially groove with Descent, a brooding, incessant journey to match your most dramatic island footage. Australian wind instrument, didgeridoo, travels to Africa for this one and adds a surprisingly light note, almost humorous, given its immense size and bass tone.

Get more beat for your bucks with Edge 5: Drums/Rhythms/Pulse. Thirty-two tracks of pulse-pounding percussive soundscapes take your "Afrika" ventures to new places. Driving, thunderous rhythms are perfect for Action-Drama, Home Videos and Travel pieces.

No talk of African music would be complete without trotting out its joyful side! Cheerful, upbeat Ivory Coast from the Across Borders collection boasts a sunny, African-flavored tune with a light and celebratory feel. Don't miss World Tour's hopeful African Skies combo of African beat and reggae panache.

From the Oldest World to the New, tuning in to the rhythmic background of African music is like tapping into your soul. Our hearts beat to the ancient tempo, our toes tap irresistibly, and our smiles soar with the sheer, primitive joy of being alive!

SmartSound is Royalty Free Music made easy.
News
SmartSound Professional
Production Type
Sonicfire Pro 6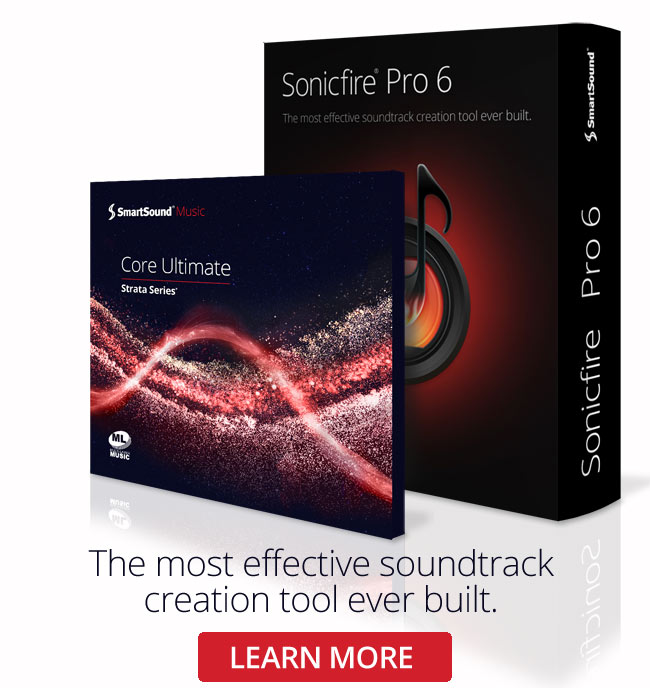 Sonicfire Pro 6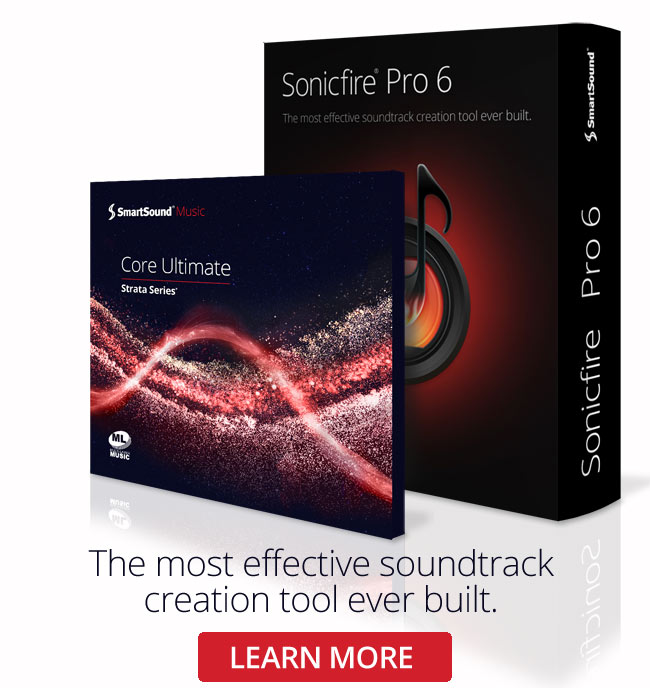 Genre
Featured Articles