Royalty Free Music Blog
In The Field With Rich Hartwell
In The Field ::
April 25, 2016
Richard Hartwell has carved out a solid career in his native Michigan as one of the go-to creators of local and regional television commercials, documentaries and corporate videos.
A graduate of the University of Michigan's Film & Video Studies program, his filmmaking style is classic and professional. Over the last 16 years he has garnered a steady clientele that count on him for everything from creative conception to scripting, as needed by the client, to shooting and posting. His clientele includes repeat customers that have worked with him enough that sometimes he can create a commercial from existing footage putting the spot together solely in his studio.
Rich got his start in the video industry when he started doing spots for Charter Media, the local advertising division of Charter Communications, where he eventually took over as Production Manager.  Over the years Rich honed an effective system that always starts with a script, whether supplied by the client or created by him. He takes the time to understand what the client is trying to accomplish with the piece and works to ensure that the creative supports that vision. From there he will typically shoot the footage on his Panasonic AG-HPX250. After getting the footage he needs to accomplish the client's goals, he edits the commercial, and finally finishes it up through the selection of music from SmartSound's library of royalty free music tracks.
Rich indicates the thing he appreciates most about SmartSound Sonicfire Pro, is it's "tweak-ability". He states: "I can explore options through the Variations and Mood Mapping features and discover a whole new sound for the song that sounds completely different than the original version of that same track."
As a result of Rich's 16 years of shooting and editing experience he can often figure out, during the shoot, what else he needs in terms of coverage and alternate takes and lengths of on-camera dialogue, so that when he gets in the edit bay, he always can get exactly the right combination of picture edits and timing to maximize the piece.
Among many other uses for the Mood Mapping feature, Rich has found that when he has different on-camera talent, often they will talk at different volume levels, energy levels and different pacing. Rich uses the Mood Mapping feature to remove instruments or change the mix to better fit under these various speaker's styles, intensity and volume. He said; "It's like having a full band in your studio where you can tell the musicians exactly what to do."
Additionally Rich likes to use Sonicfire Pro's various length tools (Custom Length, Timing Control) to consider different options for the piece's ending. He finds that often just changing the length of the track you can get an ending that fits a lot better or has more impact. Rich notes there are multiple ways to get this new ending back to the needed track length. He does the final marrying of track to image in Adobe Premiere Pro.
Rich is amazed by how many different genres the SmartSound library has. Once he needed to find an authentic big-band piece for a client doing an advertisement for an assisted living facility. He was able to find several options featuring live orchestras at the SmartSound site and present them to the client; she liked them all and chose one. Rich noted that "SmartSound's composers have a national quality to their sound at an affordable price."
We have posted a few of Rich's spots and web videos, all using SmartSound music of course. They highlight a very popular use of SmartSound's unique blend of technology and music. Rich brings a polish and professionalism to his work that exemplifies a dedication to quality and commitment that he shares with SmartSound.
To learn more about Rich visit his website.
Some Of Rich's Work
Production Type
Sonicfire Pro 6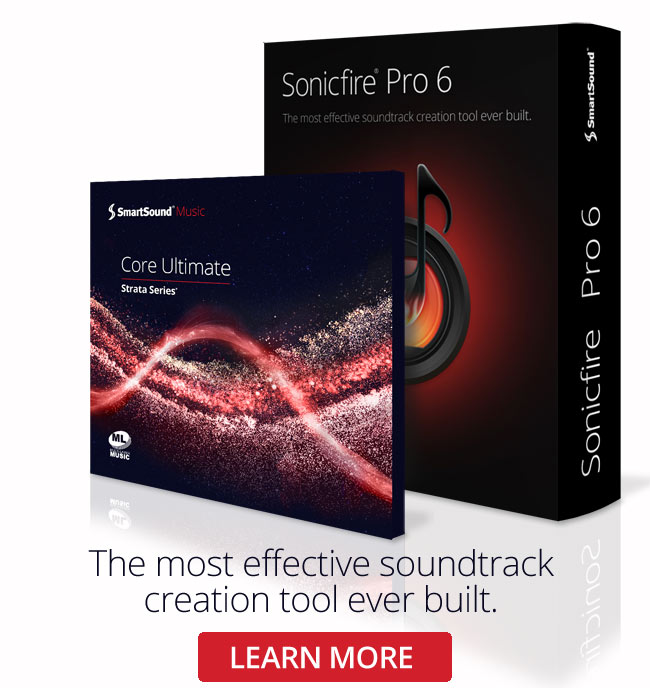 Sonicfire Pro 6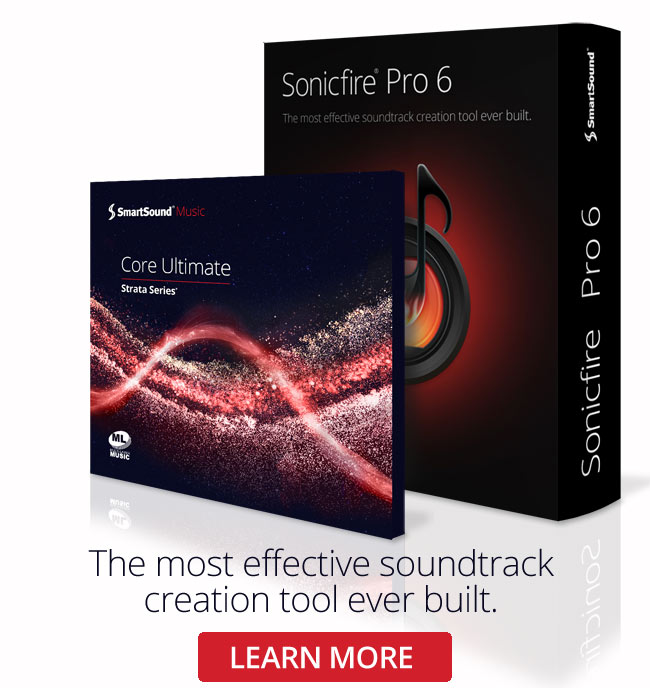 Genre
Featured Articles