Royalty Free Music Blog
Orchestral Royalty Free Music
Genre ::
December 02, 2013
Why does orchestral royalty free music have such amazing power to touch our souls in cinematic features? There must be something in our genetic heritage that remembers the days when dozens of people worked together in real time to create music of such immense pathos, glory, and tenderness.

Take multi-faceted recent release Above and Beyond's atmospheric gem Odyssey for example. Its orchestral movements glide easily from ethereal, angelic strains to bold uplifting themes, making it ideal for a montage of action/suspense scenes, or dreamy, reflective sequences that move a hero to new purposeful decisions.

Featured Orchestral Royalty Free Music
Orchestral royalty free music creates
sparce, mellow moods
as when the studio
orchestra
waits calmly to back up solo
piano
in Indie Artist gem
Everlasting Horizon
from
Indie Film 101
. It brings to mind scenes of loss or remembrance, yet still gives a sense of hope.
Album
Themes and Scenarios
shows the versatility of orchestral royalty free music with a cohesive album based on four basic melodies, stretching across ten tracks designed to provide a rich harvest of musical backgrounds for your long-form productions. The "Fool's Errand" trio of tracks, for instance, takes its cheerful, spirited theme across "Title," "Action," and "Comedy" possibilities. Full of uplifting crescendos and lively strings, "Fool's Errand" is a perfect set for light-hearted comedies and family-oriented features.
From the same album, the "Love and Regret" trio of tracks provides more than enough bright, heartwarming choices to flesh out a TV romantic drama or full feature film. Count on a fresh and bright opener "Title," uncertain, mysterious elements in "Dramatic, and "Romantic" which blossoms from tender beginnings as the romance itself does.
Nothing says menace and desolate like orchestral. Despite its quiet demeanor
No More Regrets
 from
Ambient Drama
leaves you uneasy with mysterious hints of intrigue. Orchestra paired with keyboard creates the suspense, while you let your audience catch their breath before the next big story twist.
Tormented Hero
—Above and Beyond-- pulsates with the same noir atmosphere, but pulsates with dramatic horns and incessant percussion when suspense thickens and the plot moves in for the kill.
Smartsound knows how important orchestral royalty free music is to your cinematic stylings in the quest to enhance emotional elements in broad ranges from tender reflection to epic boldness. They continue to provide selection and inspiration in this important category--See previous posts from May 2, 2012
Roylalty Free Orchestra Music
- and July 1, 2013, when Smartsound's new release
Core Evolution
was featured.  
SmartSound - The Only
Customizable Royalty Free Music
Library.
News
SmartSound Professional
Production Type
Sonicfire Pro 6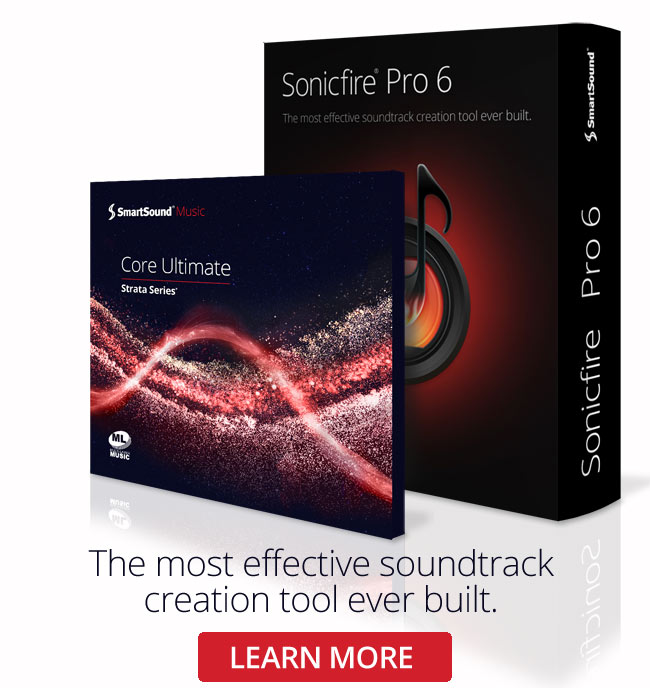 Sonicfire Pro 6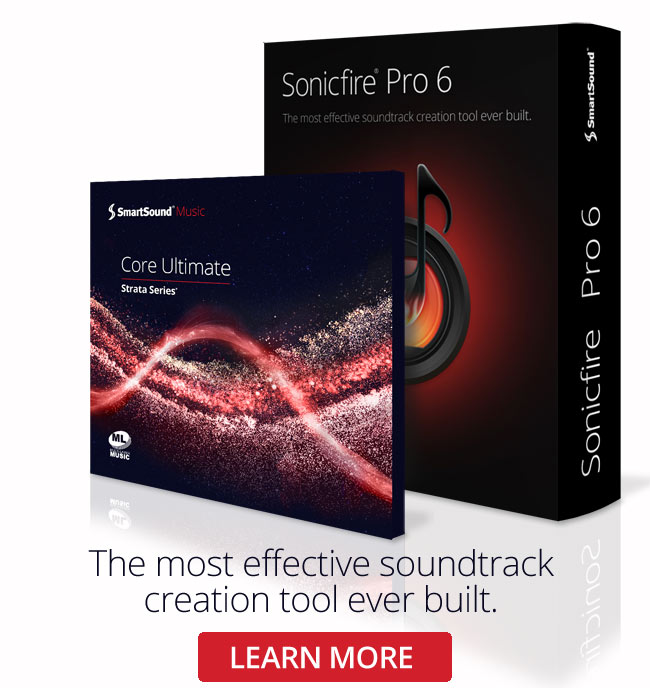 Genre
Featured Articles