Royalty Free Music Blog
Orchestral Intro Music
Genre ::
January 26, 2015

SmartSound intros, bumpers, stingers play an important part in a video production.  Short and sweet, they still keep the magic going in keeping up the ambience, and dovetailing with the longer background sequences.  Orchestral cues lend themselves to drama, sports scenes, or major product introductions.
Featured Orchestral Intro Music
From album Edgy Drama TV comes Edgy Bumpers, with two loopable bumpers and the usual instrument mixes from full orchestral, to drums and bass, to percussion only, to muted for dialog.  These tracks keep up the uncertainty, and your audience primed to return for more before or after the commercial break.  Both are a little on the suspenseful side, but Loop B is a more light-hearted, maybe to bring in after the big drama has been resolved for the evening.
The short cues in Reality Bumpers are designed to make transitions from other tracks in the Reality Drama TV album.  Fast-paced and confident, they lend themselves to sports videos as well as reality TV, and suspense projects. 
Piano heavy Family Vignettes from Richard Band  Vol. 6 – Family are billed as best at lengths of 10-30 seconds, but there's enough variety and melody to back up a heartwarming montage, or to show passage of time in a family saga story.  It has the flavor of the looped music at the beginning of a DVD, but with extended sparkle and interest.
Olympic Fanfare, from High Performance focuses on rumbling percussion and crystal-clear brass to heighten the excitement and anticipation of ultimate sports competition.  Variations such as Torch, Victory, and Ceremony let viewers know these are games of mighty heroics.
From the same album, Overture takes the triumphant flavor up even a notch, with brass and strings in the highest registers and intensities.
Studio orchestras, and larger ensembles tie together the varied moods of your dramatic or poignant projects, from confident and powerful scenes, to uplifting and tender.  SmartSound's intros, bumpers, and stingers keep the pace and feel of the whole consistent. 
SmartSound - The Only Customizable Royalty Free Music Library.
News
SmartSound Professional
Production Type
Sonicfire Pro 6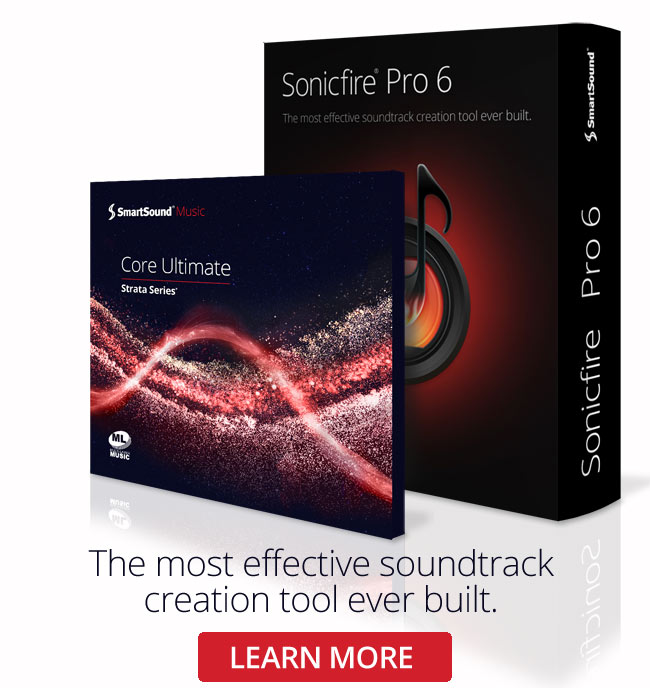 Sonicfire Pro 6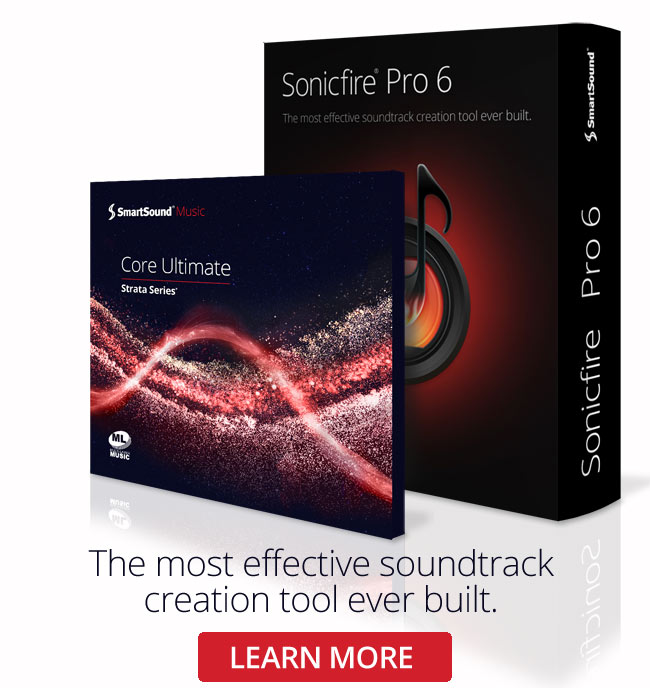 Genre
Featured Articles