Royalty Free Music Blog
New Music: Melancholy Moments
July 02, 2013
Like it or not, life has some melancholy moments; like extremes of uncomfortable weather they make the happy moments that much more sweet.  As well, all visual stories need the conflict to make them interesting; otherwise, there's no story.  SmartSound's new release Melancholy Moments provides the perfect backdrop for these bittersweet elements.
Composer Ron Sorbo is one of Nashville's most versatile musicians. Not only does he compose in his own studio, he also brings to bear his talent in percussion and piano to play with the Nashville Symphony, and in playing sessions at Nashville's largest recording facilities.  His work has been heard on many media outlets including Animal Planet, Comedy Central, Discovery Channel, History Channel, MSNBC, and MTV.
Featured New Music: Melancholy Moments
Lyrical "Afterthoughts" features distinctive piano and horn 'soloes' along with the orchestra, to convey deep reflection and regret with a haunting melody.  Variations such as 'The Attic', 'Cautious,' and 'Spirit,' give hints as to the type of serious, suspenseful scenes that could be enhanced by this pensive track.
Melancholy has its lighter side, with scenes of tender budding romance, where caution and emotional tentativeness contrast with guarded hope.  Serene "Corinne" brings out these conflicting feelings using broad orchestral melodies paired with delicate piano in a Ballad-style track.
Poignant "Long Ago" brings out the sadness of that which dwells in the melancholy past.  Tender and touching, "Long Ago," would add grace to Memorials, and TV/Movie dramas.  The lilting guitars and strings leave room for the possibility of a brighter tomorrow.
Lyrical oboe lead sets a heartwarming, yet solemn mood in "Passing Ships," ideal for scenes of romantic leads reflecting on what might have been.  It's easy to imagine the grass being greener on the other side, yet one can also wisely feel things turn out as they should.  This track conveys both sides of those feelings with soft forebearance.
Taking a slightly different track, "Worlds Apart" uses synthetic percussion to echo the feeling of two lovers forced to live far apart and missing each other with a hypnotic consistent relentlessness. It's sophisticated minimalism also conveys a slightly exotic feel which enhances the notion of distance, or two people attracted to each other, but being worlds apart in culture and background.
SmartSound's new release Melancholy Moments from composer Ron Sorbo, provides thoughtful, mellow music for moments of deep contemplation. Use these tracks to give your video projects a delicate and pensive feel, as well as quiet, emotional impact.
SmartSound - the only fully customizable Royalty Free Music Library for your music needs.
Production Type
Sonicfire Pro 6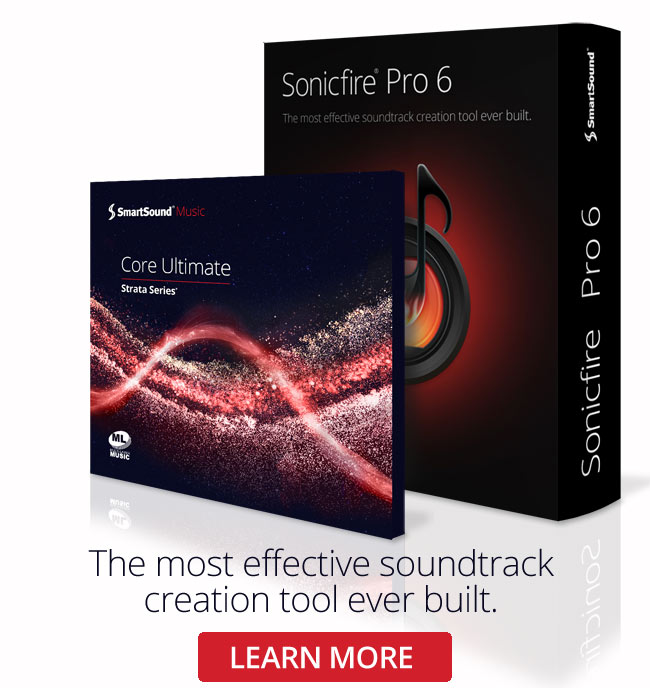 Sonicfire Pro 6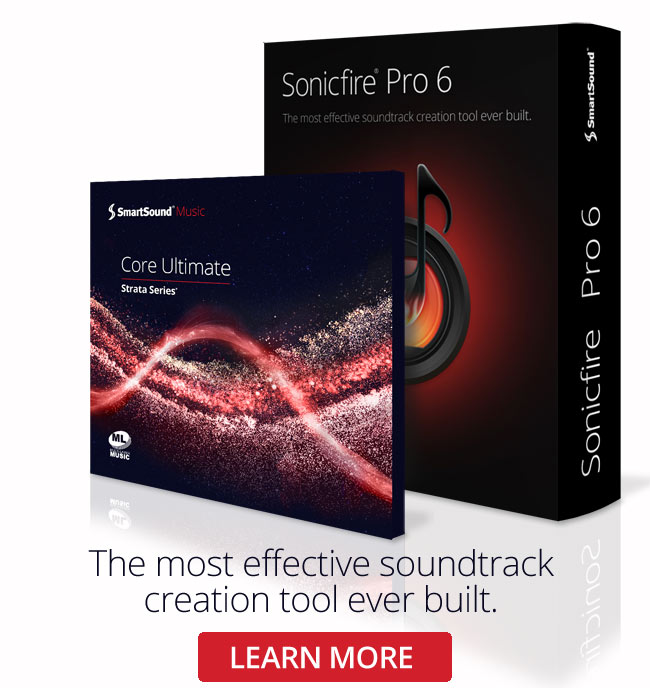 Genre
Featured Articles