Royalty Free Music Blog
New Album: Ambient Drama
June 28, 2013
Tension, mystery, and intrigue star in new SmartSound release, Ambient Drama.  This intense set of tracks is the creation of composer and sound designer, Mark Chosak.  The Los Angeles native has won several awards for online media—website music and online games.  He's composed for film and television, with clients such as Sony Pictures, Paramount Films, Cartoon Network, Disney Interactive and many others.
Ambient Drama explores all levels of ominous and uncertain, leading off with pulsating "Android Dream."  This haunting selection quietly warns of dire consequences ahead, with foreboding and eerie suspense.
Downtempo, mysterious "Each Passing Moment," brings piano and a pulsating bass line in to amp up the uncertainty and suspense; a dramatic, ominous soundscape, guaranteed to put you ill at ease.
Desolate "Fossil Evidence," focuses on electronic ambience, with light percussive accents to convey a sparse, dramatic mood.  Put viewers on the edge of their seats with brooding TV and Film Drama-style background.  
Featured New Album: Ambient Drama
So convincing is the range of incipient dread in Ambient Drama, you may be surprised to learn Chosak is also a composer of more upbeat fare, as in his other Smartsound album, Industrial Documentary.  Several cuts from that album reflect Chosak's other love, performing live and as a session guitarist—more optimistic, yet still edgy with the infinite variations of this talented sound designer.
Reflective of that more expansive mood, "Mars Sunrise," on Ambient Drama pairs ambient synths and dramatic dums to create an otherwordly mix; a gentle, magical track in the Easy-Listening/New Age genre with the power to uplift spirits. 
Glide into mystical "Tidepool Dream," a mellow track with acoustic guitar lead, and quiet layers of ambient sounds.  Ethereal and serene, it could easily provide the background for the denouement, breath-of-fresh-air moments in even the most heart-pounding drama
The collection of emotionally gripping tracks in Smartsound's new release, Ambient Drama, sets the scene for your audience to experience infinite variations of feelings, from soaring, to depths of despondence concocted by the most creative composer of all, the human mind.
SmartSound - the only fully customizable Royalty Free Music library for your music needs.
SmartSound is
Royalty Free Music
made easy!
Production Type
Sonicfire Pro 6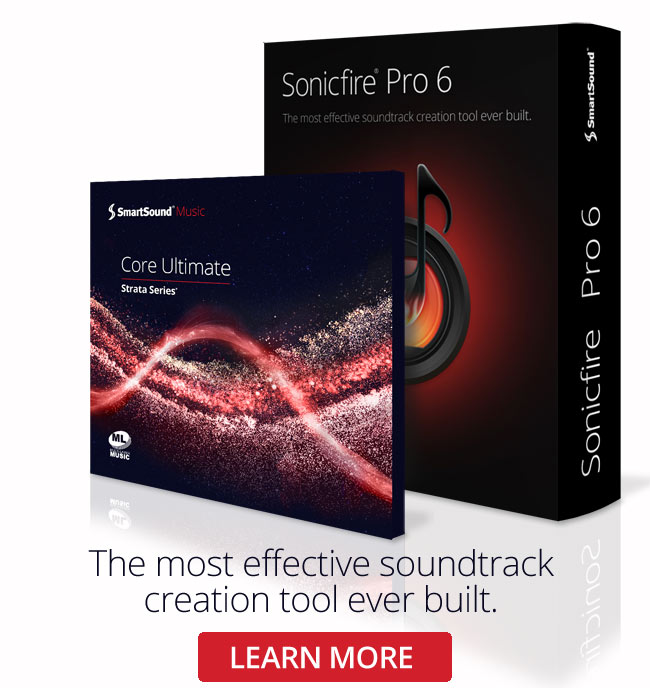 Sonicfire Pro 6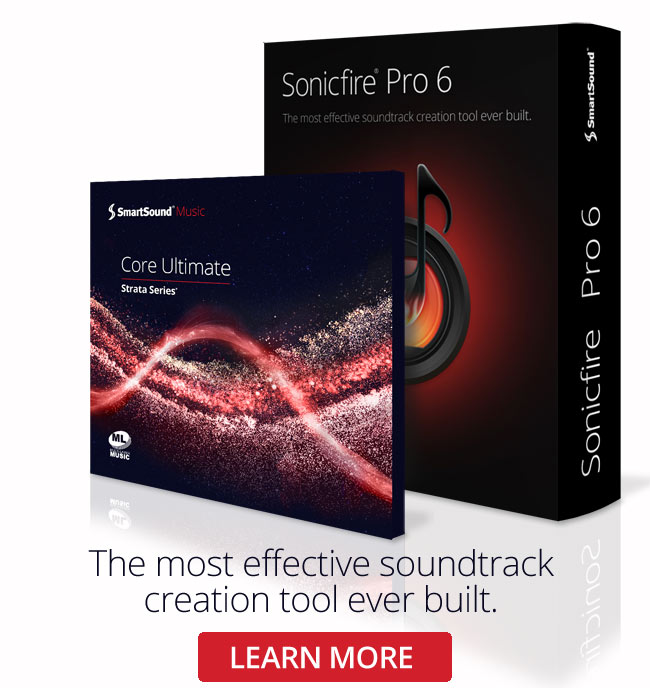 Genre
Featured Articles