Royalty Free Music Blog
Motivating Rock Music
Genre ::
October 03, 2014
Music has a strange way of being able to get you into different moods for different times in your life. Many associate rock music with being able to get you in a mood to be motivated, to achieve something great. SmartSound has a diverse array of songs to do just that for your production. Here are some examples to help get you started: 
Featured Motivating Rock Music
In the perfect Indie Rock tradition, this uplifting and driving rock track, appropriately named Monday, gets you on the right foot to start your week! Fuzz guitar solo and clean electric guitar strumming give this track a light but driving and determined feel. Its album, Core Evolution, has a portfolio of musical styles and genres for film and video scoring; ten tracks to support a wide range of production from corporate to documentary, sports action, travel and drama, all making use of Sonicfire Pro's great features.
The Positive Acoustics album features friendly, acoustic guitar-driven tracks for a multitude of applications - upbeat tracks with an organic feel. The Hold On To Your Dreams track is no exception with driving and rocking sounds - this moving motivational work can pump up the positive vibes.
Themes of patience and commitment shine in the recording of The Catalyst. Methodical marimba, spacious synths and unflinching drums give it just the right feel to match footage of teamwork. Its album, Forward Momentum, is much of the same with confident and crisp recordings with a tech approach. This upbeat collection, that puts the focus on progress, is made for business but suitable for scenes of activity or innovation. 
Staying on corporate-type tracks, Eventual Success issues a bold statement which emphasizes big goals and grand schemes. It hails from the Power Lunch (PS38) album which is a perfect set of tracks for corporate web sites, infomercials and videos, orchestrated to highlight a positive outlook and a strong bottom line. 
The Positive Outlook album has the power to motivate and instill confidence with vibrant and uplifting music. These bright and energetic tracks are ideal for scenes of light activity or the unveiling of your next great idea. A great example from this album is a track named Exuberant Success. It exudes the spirit of high accomplishment at the zenith of success, this vivid anthem of strength and self-confidence uplifts and motivates with bold, positive images of unshakable courage,
SmartSound - The Only Customizable Royalty Free Music Library.
News
SmartSound Professional
Production Type
Sonicfire Pro 6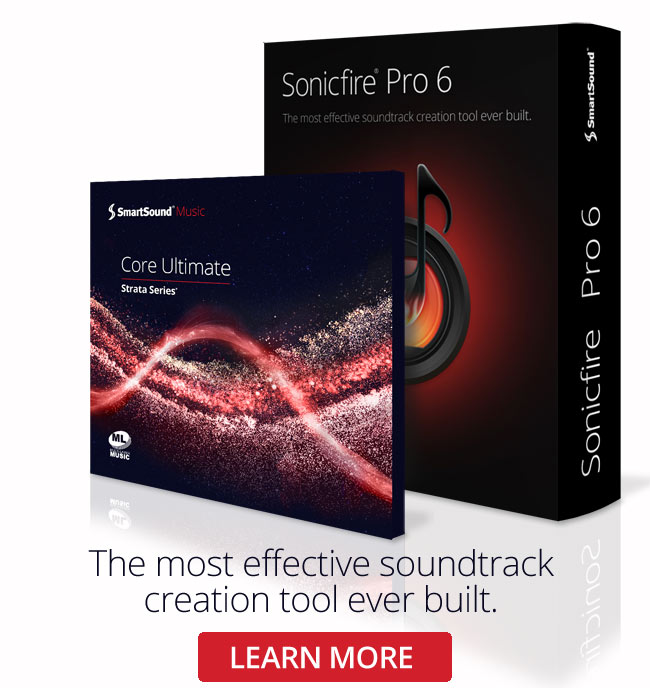 Sonicfire Pro 6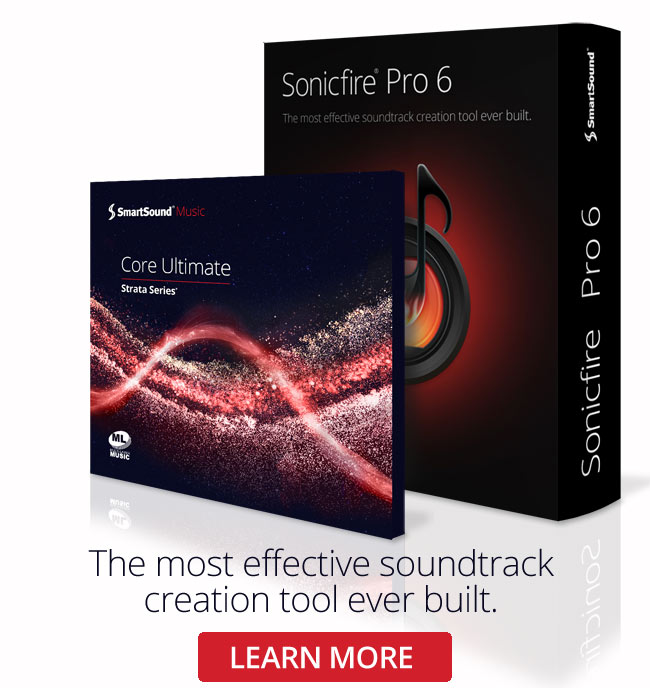 Genre
Featured Articles