Royalty Free Music Blog
Francisco Becker
August 18, 2014
One Of SmartSound's Audio Visionaries
One of SmartSound's most popular royalty free music creators, Francisco has made a name for himself in international film, trailer music and other media. In 2013 he scored the movie "Brillantes" by award winning filmmaker Ignacio Gonzales, a comedy-action film shot in Arizona and released in February of 2014.
"What really inspires my music are pictures, either the actual pictures of the film or simply mental images. From there, I imagine the histories behind the characters or think in terms of an emotion." This attitude explains Francisco's popularity with SmartSound's media creator customers, who are often driven by story and a strong sense of emotion. By thinking of details such as character history, Francisco is able to develop a deeper emotional connection in his music through the unstated but still present subtext of this history.
Born and raised in Santiago, Chile he is a graduate in composition and arrangement from the Modern School of Music in Santiago where he developed his strong sense of the orchestra and how to use orchestral color to portray emotions. A true musical artist, besides being classically trained as a pianist he also plays the guitar, clarinet and oboe. Despite his strong background as an instrumentalist, his studies at the university inspired him so much he fell in love with the orchestra and with writing for it, and that has become his passion. Currently, Francisco makes his home in France, where he writes and produces music for a variety of media clients.
Meticulous, Francisco says he can "pass hours trying to recreate a particular sound that comes into my head, it could be the challenge of reproducing a certain instrumental passage or recreating a particular sound or point of view in the music." This sense of dedication to quality and perfection shines through Francisco's music.
Francisco has released seven albums for SmartSound. Enjoy the music of this great composer:
Narration Backgrounds
Expressive, dramatic, beautiful audio backdrops to underscore narration without competing for attention. With Mood Mapping you can fine tune these even further by customizing the instrument mix for a perfect balance.
Dramatic Stories
Thought provoking and memorable, these beautifully orchestrated themes are a great accompaniment to on-screen story telling for real world drama and emotional narrative.These tracks are perfect for using our Mood Mapping feature to create nuanced shifts in the emotional interplay of your movie's characters.
Beauty & Strength
From Heart Breaking to Heart Pounding- Exceptional Orchestral Pieces for Film, TV and Documentary, in Multi Layer for use with Mood Mapping in Sonicfire Pro Software and the Mood control in SmartSound's Cloud technology, Quicktracks. This superbly written album offers a rich, varied orchestral tapestry with which you can weave almost any imaginable visual mood.
A Breath of Fresh Air
Stunning orchestral tracks for a variety of film and video productions. The power of these beautifully composed multi-layer pieces can be magnified and brought to bear on your video through the various features in Sonicfire Pro and, because of their complexity, are particularly suited to Mood Mapping.
Above & Beyond
Sweeping cinematic vistas unfold through this beautiful set of inspiring and energetic orchestral cues. The dense instrumentation provides unending variation when used with SonicFire Pro's Mood Mapping feature to custom mix the sound of the orchestra for every scene in your production.
Cinematic Exploration
Experience a masterful collection of superb, rich and nuanced orchestral writing for cinema from one of SmartSound's most popular composers. Diverse cinematic moods are depicted throughout this album featuring live orchestra. SonicFire Pro's Mood Mapping feature makes it easy to fine-tune these emotionally vibrant and deeply textured tracks to your film for a powerful visual result.
Ultra Pop
A dazzling display of pop hi-tech artistry built on a foundation of perfectly executed commercial compositional styles. Each track on this album tells its own unique story, though always with a tasteful use of the very newest in sound design techniques. This music is a perfect fit for television advertising or any project whose storyline or structure can benefit from a strongly contemporary yet accessible musical approach. Use the multi-layer capacity of SmartSound technology to craft mixes and moods well beyond the expected.
Production Type
Sonicfire Pro 6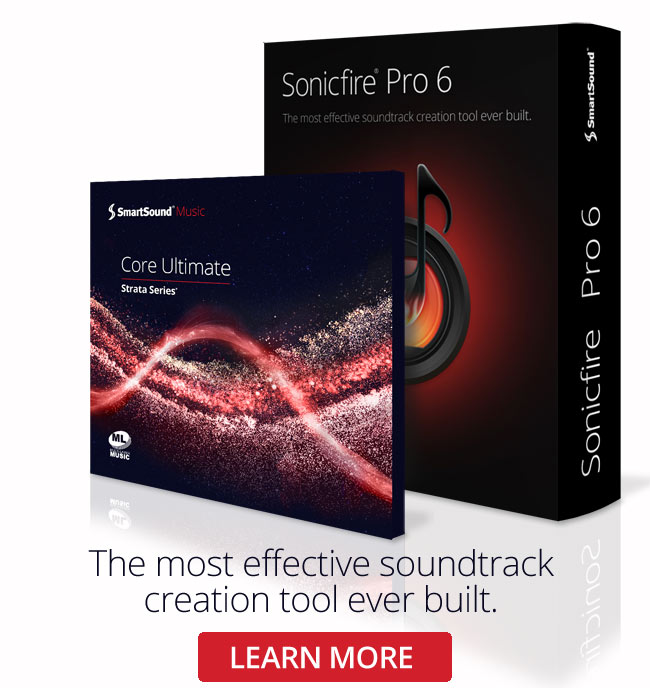 Sonicfire Pro 6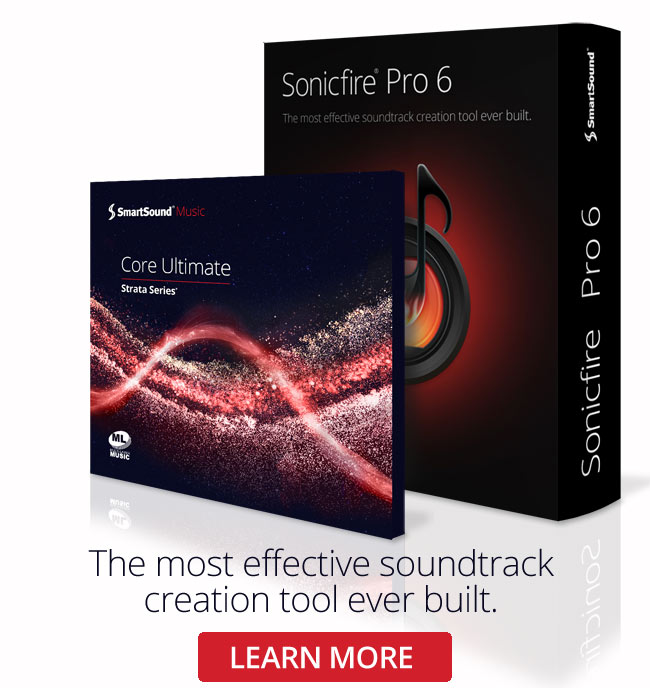 Genre
Featured Articles