Royalty Free Music Blog
Eric Pokorny
Artist Profile ::
September 23, 2014
"Sometimes, audio can be challenging to capture in the stores due to various machines running at the same time" says Eric Pokorny one of a small group of full-time media creators working in Starbucks Seattle headquarters. He will
often use the music score to "compensate" removing almost all the sound except the narration or dialogue, laying in the score to fill out the track and give it character, then simply add back the ambient sounds of espresso being made and coffee grinding to really bring the viewer into that store environment.
Eric has come full-circle from taking classes in Los Angeles for Radio Television and Film in the mid-90s. A job as a barista for the then relatively new and rapidly growing coffee company has led to a 20-year career, which has brought him back to his media-creation roots, where he wants to be. His current focus is internal training video production for Starbucks Corporate and Retail channels, which include Evolution Fresh, Teavana and Seattle's Best Coffee.
"90% of the videos are short, three minutes or less" Eric indicated. He uses Premiere Pro Creative Cloud and the Sonicfire Pro plug-in for it. "The real advantage of getting royalty free music tracks from Sonicfire Pro is that I can create mini-libraries of tracks, all with slight variations and differences, but still based on the same theme. I then use the Sonicfire plug-in for Premiere to quickly bring them all in. Once I have them in my media bin in Premiere, I always have something that will still work after the next edit, I'm not always starting over every time I make a change to the video, like I need to with music from other libraries." Eric continues, "The cool thing is the pieces are all based on the same theme but sound a little different or unique. This allows me to sound fresh while still remaining relevant and consistent with other videos and previous edits."
A great example of this is shown in the attached four screen shots. In a set of internal management videos where leadership aspects along with the company's future and growth are discussed, Eric uses some cymbal swells from Sonicfire's Hit Packs, each with a different twist, to create smooth transitions between the video's different segments.
1. Various related cymbal swells in the Sonicfire Pro timeline, each with different durations. Note the insertion of a fade at the beginning of each one, each fade-in arriving at different points in the sound wave. Doing this brings a variety into your hit and can change the sound completely.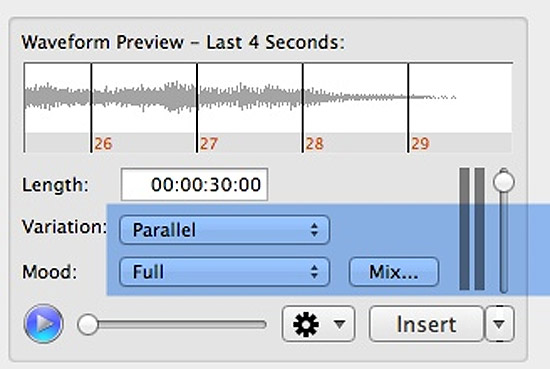 2. Whether music or production elements like swells, Eric uses Sonicfire Pro's Variation, Mood and Mix controls to create the variations on his themes.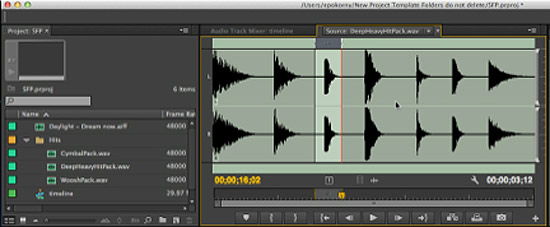 3. Once they're in Premiere, the mini-library of themes and variations are always at hand and something will pretty much always work with any edit he needs to do.
Tip from Eric: Create your own woosh-pack using the hits and swells included from SonicFire Pro. Render them out as a single file and import them into your master project. Easily mark in and out the sound you are looking for and make your transitions pop.
4. Sometimes Eric will further tweak the sound with some of Premiere's audio controls. "However," he says, "the real work is done in Sonicfire Pro, that's where the real variety is created. I've tried this with regular libraries using the audio controls from Premiere, but I just don't have the control over the musical elements and components that I do with Sonicfire Pro, this just doesn't work with regular library music."
Eric enjoys benchmarking with likeminded individuals who are creating media elements in a learning environment to better understand what's trending and how to stay relevant in this rapidly changing video environment. Contact him at: www.linkedin.com/in/ericpokorny/
Editors Note: Eric's unique mini-library approach would also work beautifully with Sonicfire Pro's Final Cut Pro X plug-in and our Sony Vegas Pro plug-in.
Royalty Free Music Unique To Your Project - Every Time
SmartSound Professional
Inside The Music
Production Type
Sonicfire Pro 6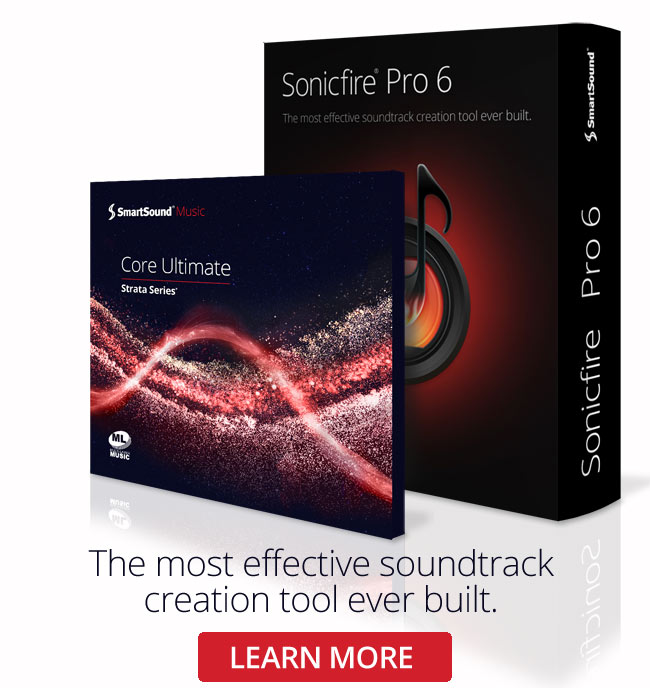 Sonicfire Pro 6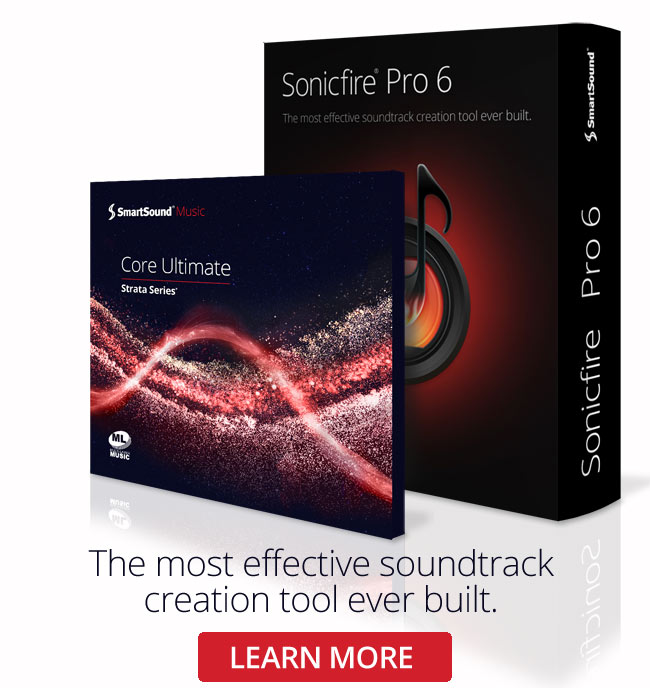 Genre
Featured Articles