Royalty Free Music Blog
Corporate Royalty Free Background Music
Production ::
March 14, 2014
SmartSound's choices for Corporate Royalty Free Background Music reflect the excitement of the corporate client's true intent (on their best days, or on their days when they are trying to look their best.) Use mood-mapping or volume control to keep them perking along in the cheerful background while not overwhelming the corporate story. For even more subtle effects, dial back with sparser variations available with each track.
Featured Corporate Royalty Free Background Music
From album Chill Down comes an eclectic blend of chill-out grooves and orchestral elements called Act Natural. It starts out with simple bongo drums, and quickly ramps up with piano, strings, and quirky percussion instruments. The whole effect is classily uplifting.
Variations like Android, Shuttle, and Orbit highlight the out-of-this world electronica qualities of Future Love coming from album Light Hearted. Home videos are another excellent location for the chill, downtempo Trip Hop song. Everyone in the family's gonna come off oh-so-cool, whether line dancing at the wedding, or taking off for their first day of middle school..
An unusual selection for a corporate project comes by way of Funky Country album with a soft electric guitar track called Maybe Tomorrow. This one's for a company that likes to highlight its down-home roots or style.
A cheerful melody weaves through album Uplift's Touch the sky –SS, from composer Steve Skinner. Piano and acoustic guitar are prominent in this easy-going selection. The piano chimes back in at the begging and end of the track with an unfailingly upbeat riff that we never tire of. 
Did you see that GE commercial called "My mom works at GE"? It sparkles with the Glimmer of Discovery that the giant corporation could support such flights of imagination on their staff. This Indie Film-style track from Narration Backgrounds uses a pulsating, yet cheerful tempo that could be put to work in Science footage or corporate work announcing new breakthroughs in R&D or innovations in public spirit.
Corporate videos seek to present a positive appearance for the company. SmartSound's Corporate Royalty Free Background Music underscore the sleek, yet uplifting message your production aims to convey. Vibrant enough to enhance the corporate image, they are also low-key enough to serve as backdrops for Spoken Word/Narration venues.
For additional Corporate music suggestions, see our post from August 5, 2013.
http://www.smartsound.com/blog/royalty-free-music-for-corporate-videos.html
SmartSound - The Only Customizable Royalty Free Music Library.
News
SmartSound Professional
Production Type
Sonicfire Pro 6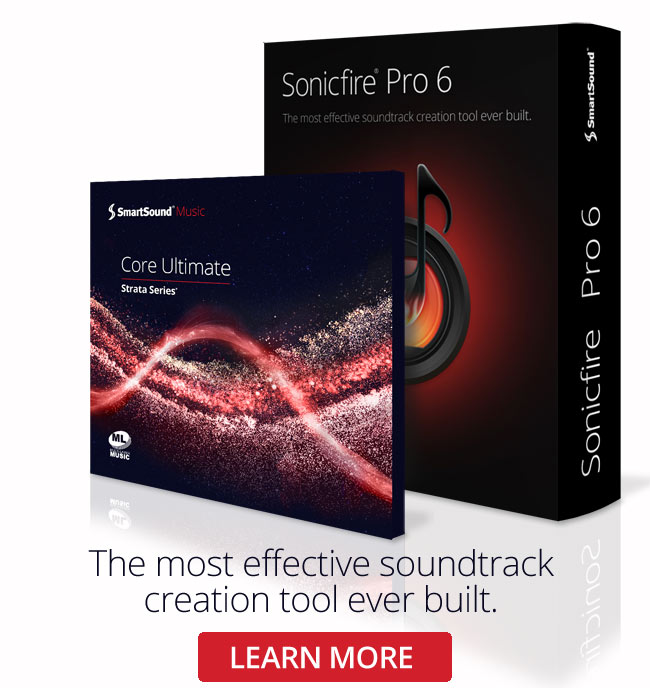 Sonicfire Pro 6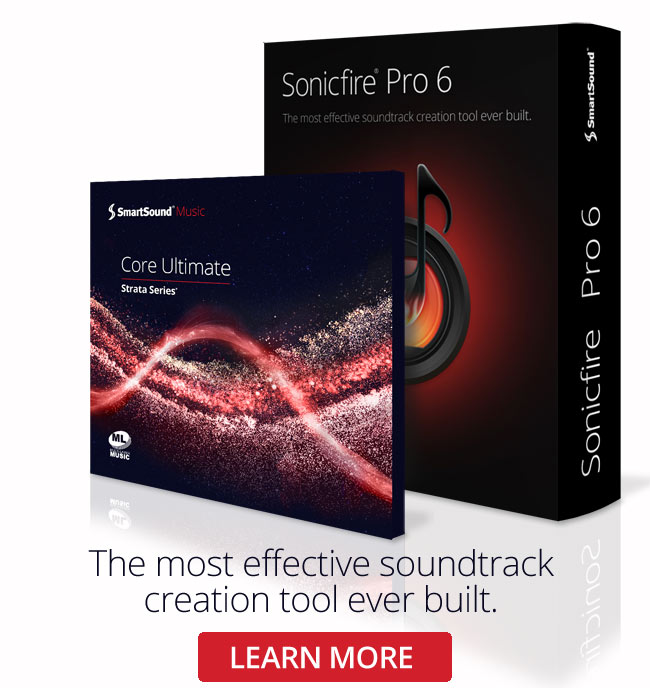 Genre
Featured Articles