Royalty Free Music Blog
Corporate Product Videos Music
Production ::
June 02, 2014
When your client has worked hard to bring a new product to the market, they want the best in musical inspiration to convey how great it is, without a lot of deceptive hype.  SmartSound's Corporate/Industrial Product Video offerings maintain upbeat tone with class and distinction, suitable for both real Product Videos, and Product Video scenes like that great one in the 1990's movie, Sabrina. 
Featured Corporate Product Videos Music
Piano marries up with strings backing in a piquant mix in Late Night Void from A change of Seasons.
Subdued phrases of percussion counter-balance the beautiful piano work.  You could use this Indie-style track for Short Films, Biography and On-Hold Music as well as a way to introduce a product everyone's going to love, like a non-toxic cleaning product that cuts cleaning time by 90% without harming the environment.  (I want that one, by the way, so let me know when you find it.)
From Climate Control comes a Trance-Dance style electronica track called The World to Rights.  You definitely want to dance along with this one, even if you don't like dancing!  Perfect for a flash mob sequence.  Check out the drum-and-bugle style percussion near the end of the track.   
The money wouldn't even dream of wandering off after being herded along by Cash Flow from Corporate Ambition.  This stately orchestral track reminds you of the overture to an old Western with at least the stature of a John Wayne flick.  A substantial breakthrough product in a traditional industry would do well with this dramatic track, as would the announcement of some positive corporate news.
A much more light, cheerful pop-style mood is set with Sky's the Limit from Corporate Undercurrents.  Introduce a new series of products with this spirited theme.   Get Going is the signature variation, along with Signed On, Profits, and Feel It. 
A lively melodic thread weaves confidently through Blue Chip in Business/Focus/Vitality, with strong piano, guitar and drums.  Good for training productions where a feel-good-about-getting-going is needed.
Good Corporate/Industrial Product Video music from SmartSound creates excitement for the new product, and inspires the action of purchasing the unit.  It has to be upbeat, yet responsible-sounding as well as convey up-to-the-minute underpinnings. 
SmartSound - The Only Customizable Royalty Free Music Library.
News
SmartSound Professional
Production Type
Sonicfire Pro 6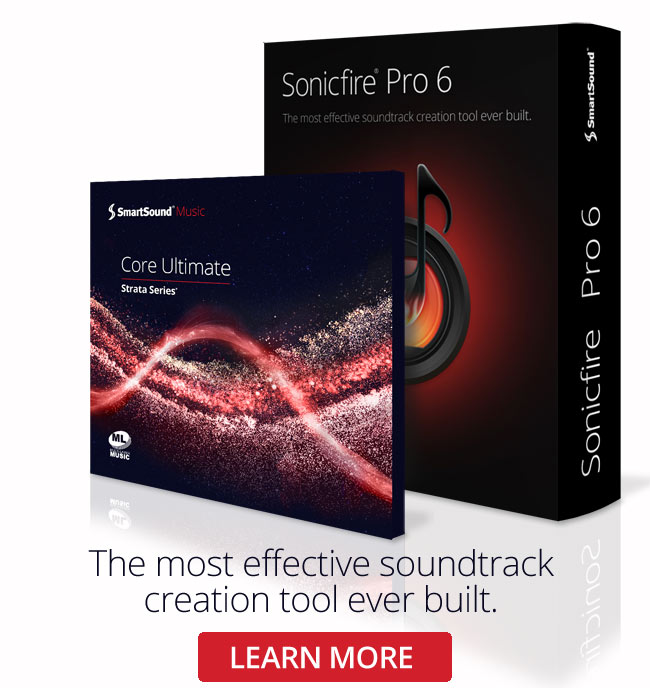 Sonicfire Pro 6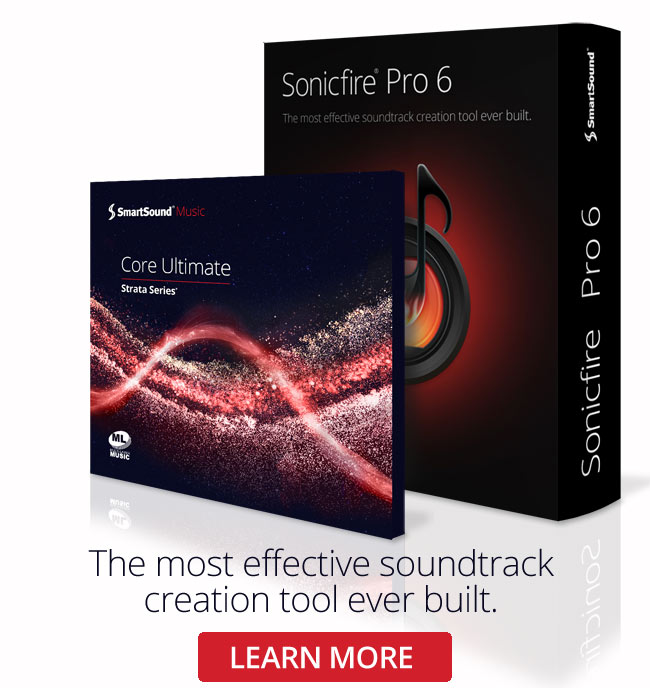 Genre
Featured Articles