Royalty Free Music Blog
Ultra Pop - New Album
May 19, 2014
A dazzling display of pop hi-tech artistry built on a foundation of perfectly executed commercial compositional styles. Each track on this album tells its own unique story, though always with a tasteful use of the very newest in sound design techniques. This music is a perfect fit for television advertising or any project whose storyline or structure can benefit from a strongly contemporary yet accessible musical approach. Use the multi-layer capacity of SmartSound technology to craft mixes and moods well beyond the expected.
8-Bit Gallery
A percolating intro leads to an infectious track with a strong, contemporary backbeat and edge-driven sampled voice.
Orchestral Journey
Ringing guitars combine with atmospheric elements to create an ethereal, multi-textured pastiche of sounds and emotions. Beautiful strings in the interlude create a release offering a respite, which transitions back to earlier elements, creating a compelling arc on which to hang story structure.
Rain Over Paris
At once futuristic and nostalgic, this piece transcends time with tasteful use of both cutting edge electronics and more traditional sounds and harmonies; Emotional and thought provoking.
Elektrik Skyline
Danceable, infectious and hypnotic, classic Euro-club music brought up to the minute with taste and style, a sampled vocal hook will have you entranced.
Delayed Process
Playful, with shifting harmonic colors that develop into a compelling, hummable track interspersed with ambient breaks that build tension just to release back to the hummable, beat driven center.
Analog Dance
A futuristic shuffle with funk overtones and a riveting blend of pizzicato strings, electronics and strong hook-laden melody.
Space Cowboy
An updated take on the classic dance-style track. Modern with bright leads, rich synth pads, and at times almost a postmodern-industrial sensibility.
Future Past
Lightly popping percussion intertwines with super-fat synth chords that are then topped with bright bell-like shimmers, the track keeps building like this to a shimmering piano ending.
Electro Drama
A grand and rich intro sets a luxurious tone for this piece. Epic electronic elements combine with a strong backbeat and soaring strings to create a thoroughly modernist take on the idea of a sweeping moment.
Mirror Of Dreams
A mysterious intro with an intense, heavy-bottomed synth-bass explodes into a soaring piano-synth hook creating an uplifting melody rising above all else with emotion and hope.
Listen
SmartSound - The Only Customizable Royalty Free Music Library.
Production Type
Sonicfire Pro 6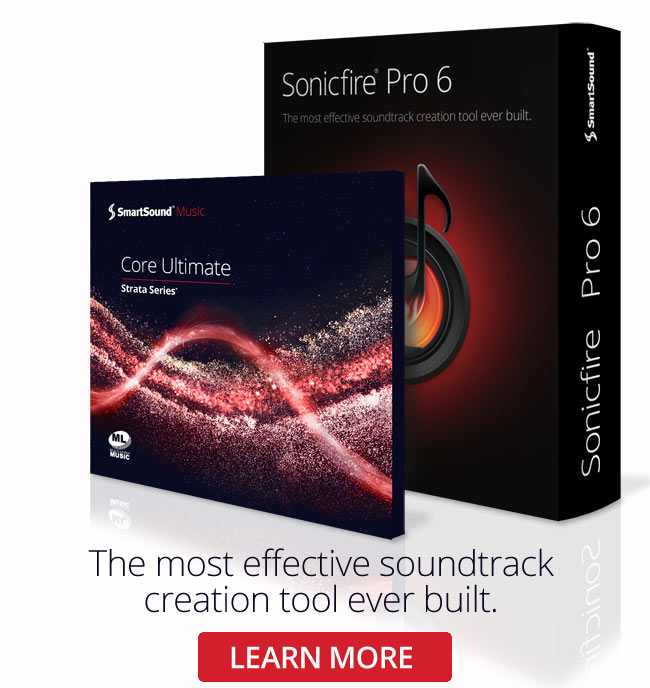 Sonicfire Pro 6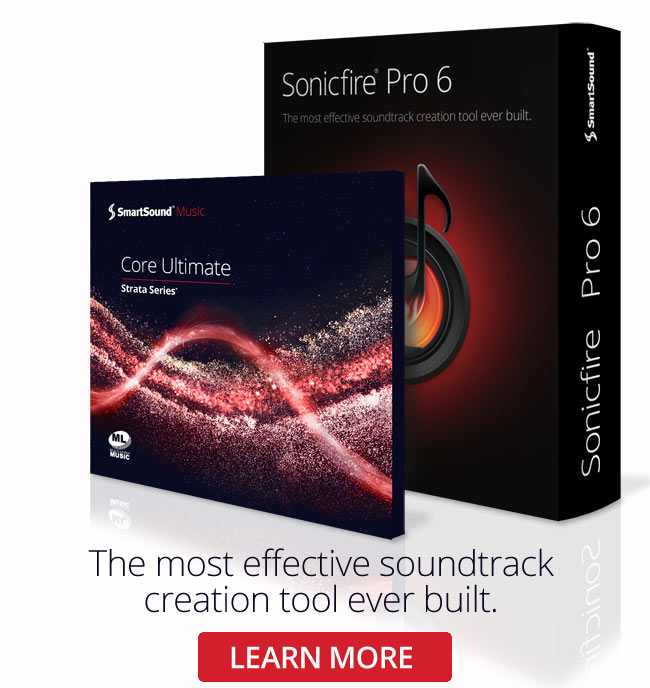 Genre
Featured Articles