Royalty Free Music Blog
SmartSound for the iPhone
October 30, 2012
Let's face it. The best video moments are the ones we catch on the fly on our phones, right? And we don't always have our professional video equipment with us, even if we're pro videographers.
SmartSound's new app lets you add the musical background to transform those quick slices of life from mildly interesting to riveting.
If you have an iPhone, iPad, or iPod Touch, you can add music to any video in your camera roll (even ones already on the device) with little or no technical skill. The software automatically makes the music and your video clip end at the same time. You can even add a fadeout option for the most professional finish.
Then Soundtracker lets you share your videos with Facebook, YouTube and email instantly. The built-in license allows you to share these for non-commercial uses like these only. If you'll be getting paid for your project, including through YouTube Partners, then go to the SmartSound
Royalty Free Music Library
for the correctly-licensed products.
Here are the five songs that come with the app
Dozens more categorized songs are available for purchase, once you have the FREE app from
the iTunes store
. The additional songs come in packs of 3 for $0.99, or 6 for $1.99. The packs have intriguing titles, like Olympic Dreams, Perfect Pets, Cute Kids, Adrenaline Junkie, Reflective Moments, Big Movie Trailers, Hijinks, Skate Rat, Tropical Vacation, and more, including packs from Indie Artists featuring soundtracks with lyrics.
You can really amp up the emotional impact of your videos with this added music, and best of all you can control the exact mix of sound between the music and the video's own sound. The music can play quietly in the background without overshadowing the video soundtrack, or it can be the full audio impact, with the video soundtrack silenced. Use the remix button in the app, till you get just the arrangement you want, before saving the video.
"The goal of Smart Soundtracker is to automatically make your videos more fun and memorable," said Kevin Klingler, President of SmartSound. "The addition of a perfectly fit soundtrack adds whatever kind of emotional basis you want for your movie, making it far more enjoyable for your friends and family to watch."
Find out more at the Smart Soundtracker Web Site:
www.SmartSoundTracker.com
SmartSound is
Royalty Free Music
made easy!
Production Type
Sonicfire Pro 6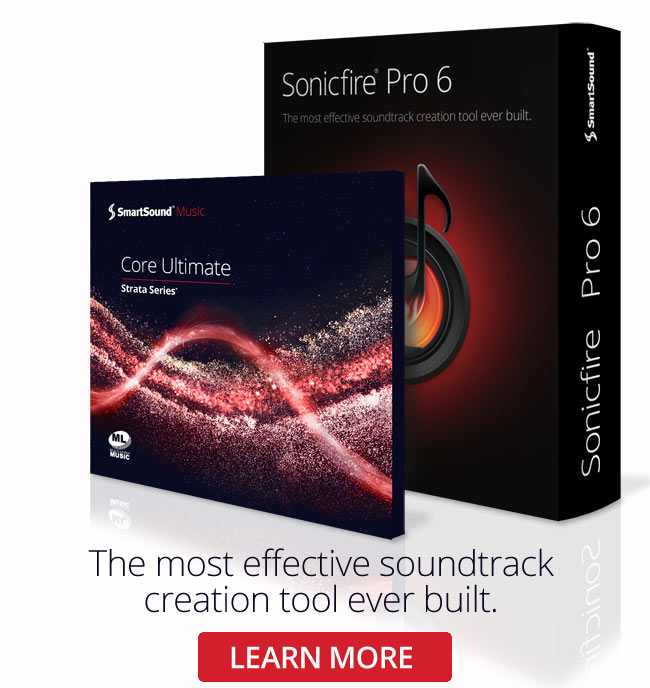 Sonicfire Pro 6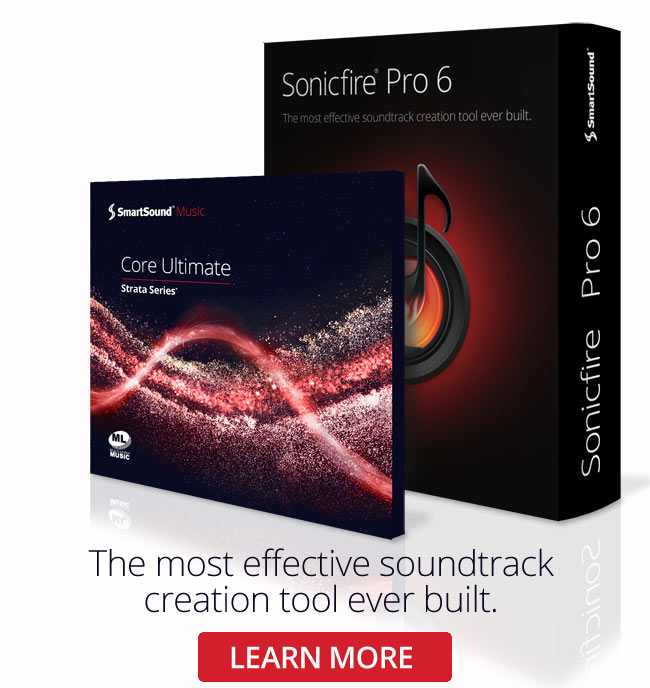 Genre
Featured Articles