Royalty Free Music Blog
Single-Layer Royalty Free Music
July 13, 2012
As Smartsound's cutting edge software has evolved over the years from single to multi-layer to multi-layer with vocals tracks, we have put together special series to indicate which albums carry the various layering possibilities, depending on your needs. Each series features a variety of music genres and types to include the widest selection at each level.
The only differences in the single layer series and the multi-layer are the fact that the instrument variations are not available and the price for single tracks is lower. In every other respect they offer the same flexibility as all Smartsound multi-layer tracks. Album prices are all the same, and the timing and musical arrangement features are available for infinite permutations of your song.
Producer Series
offers albums in nearly every general category Smartsound carries, to maximize the choices for video producers of all kinds, from
Cinematic
to
Sports
to
Corporate
. Check out
Story Arc
for a versatile mix of
orchestral
dramatic cues that range from sneaky
Covert Agenda
, to inspiring
Better Days to Come
, to light-hearted, kid-friendly
Juggling Act
. This album is just example of the huge variety within the series, and within individual albums.
The
Film Score Series
offerings put the work of top film and television composers in your hands; albums with the
Richard Band
titles are single-layer offerings. The latest one,
Mystery and Magic
has 10 tracks of live symphonic cues for suspense movies and videos. We especially like Inspiring
The Spell is Broken
, a sunny and bright orchestral offering, evoking parting clouds making way to a new day, to take the edge off the other nine tracks that give new meaning to "ominous."
The 
Edge Series
 features the cutting edge of music produced in house by top LA and Hollywood based professionals. They run exclusively, at this point, to
Rock/Hip Hop/R&B
and
Atmospheric Beds
sounds, but they pack a potent punch for projects needing up-to-the-minute juice to round them out.
Drums/Rhythms/Pulse
features driving ethnic beats and soothing backgrounds, while
Nu Metal/Extreme
takes no prisoners!
Series featuring single layers such as the
Audio Palette
range from Atmospheric Beds to Rock/Hip Hop/R&B To
Classical Music
.
Rich in musical texture, Smartsound's single-layer series' offer extensive variety with full musical variation capability, at a lower price for single tracks, but with no sacrifice in quality or intensity of sound.
SmartSound is
Royalty Free Music
made easy!
Production Type
Sonicfire Pro 6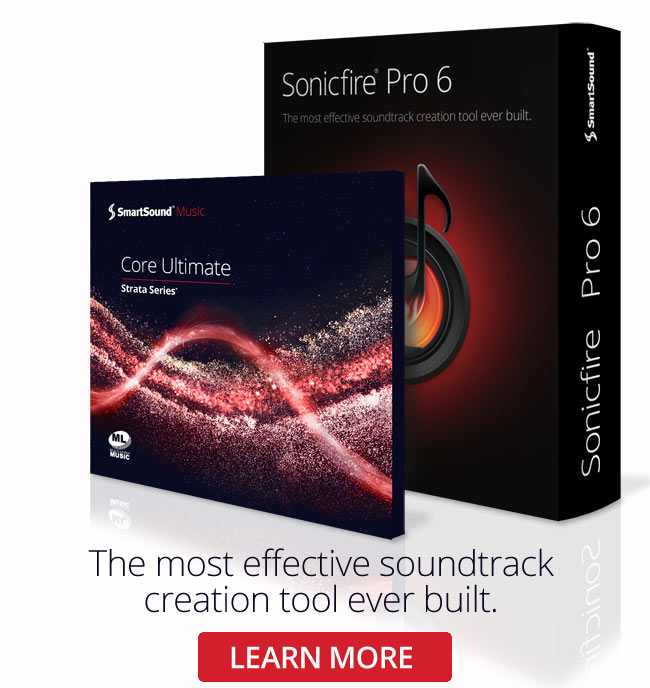 Sonicfire Pro 6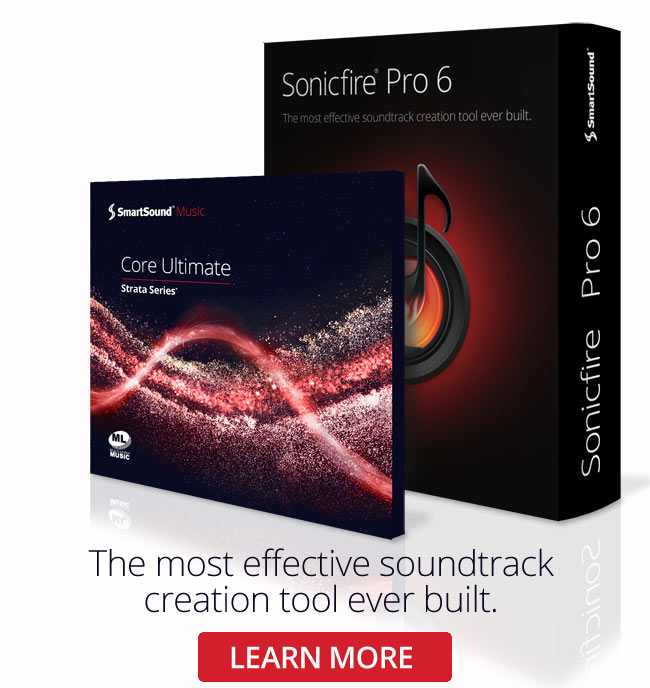 Genre
Featured Articles