Royalty Free Music Blog
Multi-Layer Royalty Free Music
July 11, 2012
Smartsound's multi-layer and multi-layer with vocals tracks include everything available on the single-layer series--ability to
create musical clips in lengths down to a second
, variations in tone of the song, and high-quality musicianship from professional composers and performers.
In addition, the
instrument level variations
in the multi-layer series' adds a whole new dimension to the infinite possibilities available from each track. For example,
Crystalline
from the
Reflective Memory
album in the Strata series, gives these instrumentation choices—Full, Background, Dialog, Drums & Bass, Light, Leads, Drums Only, Small Group, Keys Feature, Atmosphere, and Breakdown.
This is in addition to the normal musical arrangement variation available on all 3500+ Smartsound tracks. In this song, they include "Glisten, Catch, Smoke, Drifting, Break, Retrograde, Rising, and Perk."
My math isn't too rusty today, so that figures at about 88 possibilities, just with mix-and-matching these two variables. Add in custom timing lengths, and you can what kind of mileage you can squeeze out of each track. Then there's stringing several different variations together in a row! My head's starting to hurt now, so I'll just cut to the bottom line, it's not out of the question to
score hours of musical background out of just one song!
The powerhouse of the multi-layer series,
Strata
, features over 100 albums in twelve categories. Whether you need Acid Jazz for your
Documentaries
, Southern Accents to juice up training videos, or Primetime Pop for
sports
footage, Strata Series has it in stereo on steroids!
Amotz Plessner & Friends
have created multiple albums featured in the
Film Score Series
, suitable for
orchestral
drama and panoramic action. Use these bold tracks in Action-Dramas,
Film Trailers
,
Video Games
— wherever epic adventure and sweeping emotions are found.
All the albums in Smartsound's
Voxation
series feature vocals and lyrics from top Indie and
electronic bands
and songwriters, such as the driving rock cuts from German band,
Steep
, edgy Hip Hop/Rap from
Mike G
, and compelling blue collar
rock
, courtesy of
Josh Eagle and the Harvest City
.
Smartsound's multi-layer tracks cost slightly more than single-layer tracks, but, as always, when you purchase albums or higher
volume discounts
, the price difference disappears. Given the astonishing range of scoring options available from each track, Smartsound's Royalty Free multi-layer platform stand out as the supreme value in the music scoring industry!
SmartSound is
Royalty Free Music
made easy!
Production Type
Sonicfire Pro 6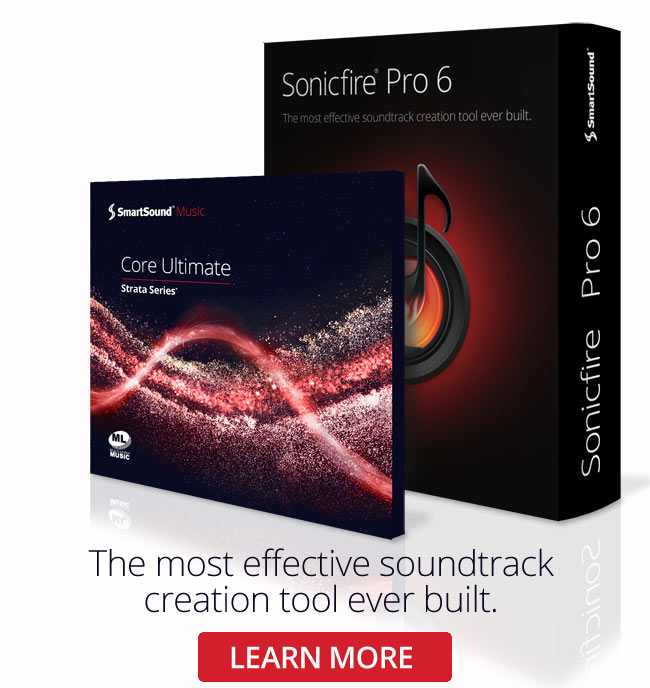 Sonicfire Pro 6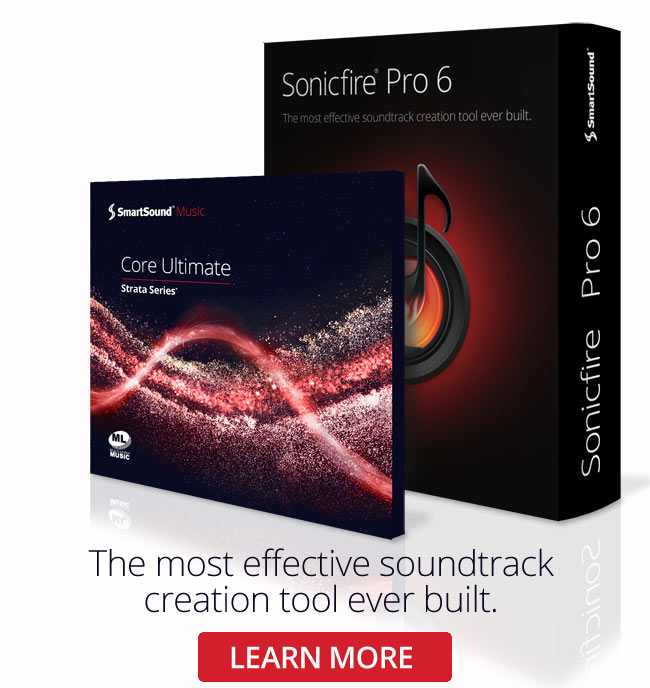 Genre
Featured Articles