Royalty Free Music Blog
Custom Royalty Free Music
October 03, 2013
Using music scores to accompany your presentations, your shorter or longer video materials is absolutely essential if you are to make the most of your creation.  Using royalty free music and mixing it with the help of software that makes sound editing a breeze is absolutely essential if you are to create professional content in an easy way. What SmartSound offers is exactly this: an incredibly huge library of music that poses no royalty-related issues and a state-of-the-art, versatile software that allows you to match visual content to audio back-up and to create perfect materials.
The SmartSound Experience – Professional-Grade Music Editing Made Available for Professionals and Amateurs Alike
With SmartSound, music editing and video syncing is at its best. The website offers a vast inventory of royalty free music in various styles, and the company's patented software offers the possibility to match the scores to the visuals and to create unique, high-quality playlists for professional and amateur music editors alike. The library is available in return for a convenient monthly or annual subscription fee, while the software package is also very reasonably priced and affordable for any budget.
SmartSound's library of royalty free music will surely offer you the track you need for the perfect emotional impact. You can browse the inventory by music genres, instruments, mood and many other categories and you can find play list for specific production types like weddings, Christmas or documentaries.
Sonicfire Pro, SmartSound's award wining professional music editing software, includes all the customization options you can possibly need. Timing control, mood mapping, length customization are just a few of the functions you can use for making complete and complex materials of maximum impact and the numerous plug-ins available for the software open even more editing possibilities.
SmartSound now offers not only the option to buy their Sonicfire Pro software and edit your music using a software installed on your computer, but also the possibility to create your mixes online, by using QuickTracks. This cloud-based function makes it possible to download music of the length you need, each track having the perfect structure of beginning, middle and a matching ending as well.
Are You Interested?
SmartSound not only practices reasonable fees when it comes to the professional materials available on their website – they also offer you the possibility to try out their exclusive software free, with the 21-day trial version of Sonicfire Pro. You can test both the software and the library to set your creativity free – with royalty free music and a state-of-the-art software to edit it.
SmartSound is Royalty Free Music that Fits!
Production Type
Sonicfire Pro 6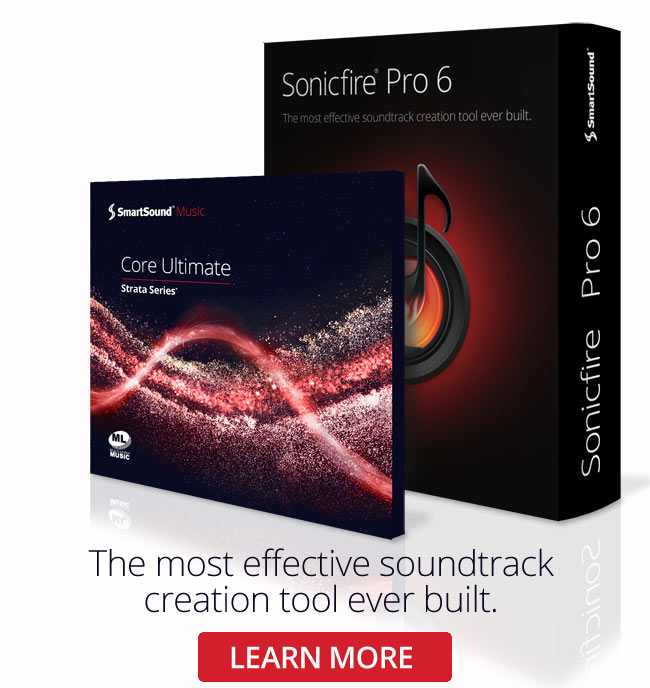 Sonicfire Pro 6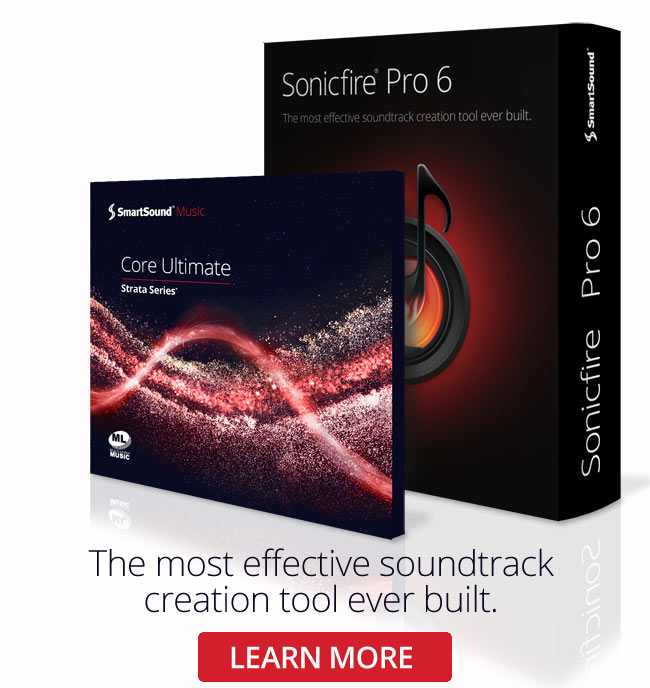 Genre
Featured Articles